Female of the Species: Berry Brings It in Middlebrow Action Drama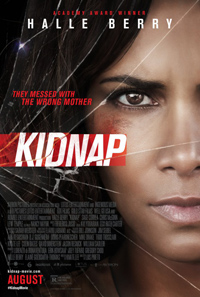 Playing like a throwback to 1990s studio thrillers starring Oscar caliber actresses navigating survival under extreme duress or seeking vengeance against those who have harmed their families, Luis Prieto's Kidnap, starring a vibrant Halle Berry, satisfies the urges of B-movie melodramas Hollywood stopped churning out long ago. One of those thrillers most likely to be described as "high-octane" in its depiction of something usually called "a mother's worst nightmare" (or perhaps in some cases, fantasy), Prieto drafts what plays like a female version of Taken sans the senseless male posturing.
Grabbing audiences by the collar almost immediately after some minimal exposition, Berry excels, for the most part, in a vehicle whose reputation already arrives unfairly tarnished thanks to languishing on the shelf following the bankruptcy of Relativity. But naysayers be damned, let's add Berry's name to a growing list of ultra-capable women of Summer 2017, who, in the wake of Wonder Woman, prove it doesn't take super powers for the female of the species to trump their male peers.
Struggling to care for her six-year-old son Frankie (Sage Correa) on a waitress salary at a New Orleans diner, Karla Dyson (Halle Berry) is doing the best she can, determined to thwart her ex-husband's attempts to gain sole custody. But distracted momentarily by a stressful phone call from her lawyer while playing with Frankie at the park, Karla loses sight of her son. Frantically searching for him, she spies a heavyset white woman yanking him into a green Mustang. Scrambling into her mini-van (and meanwhile dropping her smart phone), Karla tails the abductors on a strenuous, violent chase outside of the city.
More Sally Field in An Eye for an Eye (1996) than Liam Neeson, Berry's Karla Dyson belongs to a long line of women in the actress' filmography who aren't always a believable fit for her. Starting out as a crack addict under the tutelage of Spike Lee, Berry's filmography was speckled with similar characterizations during her breakout decade (of which Losing Isaiah stands out as a perverse point of comparison), while critics have often found her to be too striking in many of her less glamorous, working class roles (including her Oscar win for Monster's Ball, 2002).
Berry as a waitress in a hole-in-the-wall diner is an early eye-roll moment in Kidnap, although a quick rundown of her custody issues adds a certain layer of surprise subtext with this efficient, pared down-scenario. Still, with at least a serviceable wig game going on this time around, Berry proves to be consistently as compelling as her character is surprisingly savvy in a genre which often denudes women of logic and capability.
The script, written by Knate Lee (better known as a producer of Jackass) works best between its forced bits of dialogue. Berry spends most of the time front and center all by herself, and her performance is sometimes bogged down by unnecessary diatribes, such as a fervent prayer to the spirit in the sky and lots of outbursts along the way meant to underline her frustration (for a film with R rating, more expletives might have been believable in their stead).
Playing like the reversal of fortune for the similarly staged The Call (2013), in which Brad Anderson directed Berry as a 911 operator, Kidnap also inadvertently recalls a slew of 1970s exploitation efforts, particularly with its rendering of putrid, white-trash antagonists, like the woman co-conspirator played by Chris McGinn (who makes this all seem like the Shelley Winters/Leslie Uggams dynamic of Poor Pretty Eddie, 1975).
Some impressively staged action sequences on scattered freeways (despite a strangely edited bit early on) make this one of those "edge-of-your-seat" nail-biters designed to ratchet audiences into a pattern of tension and release (the kind inspiring jeers and applause when antagonists are meted out with extreme, vigilante style justice).
Kidnap could have been much more impressive had Prieto (whose last film was the unnecessary 2012 remake of Nicolas Winding Refn's hailed 1996 film Pusher) been allowed to excise most of Berry's cornball bits of dialogue in exchange for steely silence, perhaps allowing for something a bit more European, perhaps in line with Sluizer's original The Vanishing (1988). But as an antidote to all continual and endless tentpole formulas of superhero films and other franchise properties which have taken over the studio output of present, Kidnap is a zesty, refreshing guilty pleasure.
★★★/☆☆☆☆☆