Unhappy-Go-Lucky: Hawkes Shines in Roberts' Mental Illness Drama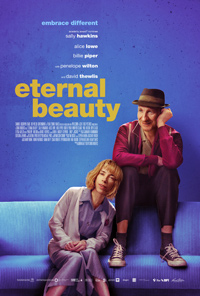 The depiction of mental illness, particularly something like schizophrenia, a real condition often posed as a catch-all descriptor for unexplainable mental disturbances (not unlike the popularity of bipolar disorder, and before it, dementia praecox), has a propensity for exaggeration and cliché on celluloid. For his sophomore directorial effort, actor Craig Roberts presents a sobering portrait of paranoid schizophrenia in Eternal Beauty, which benefits from the faultiness of its protagonist's worldview ensuring an uneasy ambiguity in what's really happening and what may be a fabrication.
A commendable performance from Sally Hawkins once again employs an empathetic nuance which assists in an authentic portrayal of what it feels like from her character's perspective instead of the usual hand-wringing associated with narratives focusing on those whom it affects. At times droll, this mostly downbeat affair boasts an exceptional supporting cast cementing a trajectory of dysfunction and maybe even a hint of catharsis.
After being left at the altar as a young woman, Jane (Morfydd Clark) begins to develop symptoms of the mental illness which would eventually define her existence. Brought up under the dysfunctional guise of her domineering mother Vivian (Penelope Wilton) and passive father Dennis (Robert Pugh), her family seemingly tolerates her until her behavior necessitates hospitalization and shock treatment. Decades later in her forties (now Sally Hawkins) and in and out of medical facilities, a recent change in her medication leads her to stop taking it. Now living with her sister Alice (Alice Lowe), who is estranged from the family due to the relationship she developed with their mother, Jane's behavior begins to veer out of control. But she also develops a romance with another patient, Mike (David Thewlis), much to her mother's chagrin. While the prized sister of the family, Nicola (Billy Piper) also proves to be a source of worry for the family, Vivian's ailing health starts to bring them all back into (a sort-of) focus.

At times, Eternal Beauty is not sans its moments of cliché, as when Jane begins to peel away at her wallpaper, which plays like a subtle homage to the classic Charlotte Perkins Gilman short story "The Yellow Wallpaper." Tonally, the familial angle feels akin to Muriel's Wedding (1994), but without the poignancy afforded its heroine. Eventually, with the assistance of the trifling matriarch played by Penelope Wilton (one of the film's other sterling performances), a death-bed scene suggests Roberts' paying homage to the likes of Ingmar Bergman's Cries & Whispers (1972).
The continually compelling Morfydd Clark (Saint Maud, 2019) is perfectly cast as the younger Jane, and if neither Billie Piper nor Alice Lowe, both intriguing performers, don't exactly seem like they could be the siblings of Hawkins, the ensemble works despite such slights. David Thewlis is more of tangential detail as Jane's unstable suitor, but the pairing is effective, especially considering Thewlis and Hawkins both played opposites of the Mike Leigh emotional spectrum (Naked, 1993 and Happy-Go-Lucky, 2008, respectively).
Lensed by Kit Fraser (Under the Shadow, 2016), the visual palette also assists in this trajectory (in ways in which something like Horse Girl may not have as effectively portrayed, although Alison Brie's performance also, by and large, assists in that title's success).
Eventually, it is a film which allows Jane to be 'in her oils,' the repeated adage which doubles with the oil painting figuring in the milieu of her apartment and the doctor's office, suggesting more of these sequences may be borne of Jane's hallucinations than we may initially expect (not unlike something Florian Zeller does to much more pronounced effect in The Father, 2020). Not unlike her performance in the underrated Maudie (2016), Hawkins is mesmerizing in another film likely destined to fly under the radar.
★★★½/☆☆☆☆☆