A Rainy Day in New York | Review
I Don't Like Cities, But I Like New York: Allen's Shelved Comedy Can't Shake the Clouds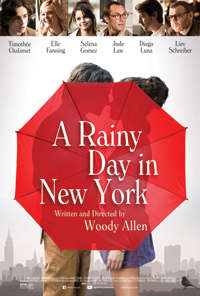 At one time the immortal city streets of New York were among the muses which generated many a seminal Woody Allen classic, an auteur whose prolific output has since been overshadowed by a controversy which continues to haunt him. In 2018, which should have seen the release of his latest, A Rainy Day in New York, distributor Amazon Pictures shelved the project in the midst of the MeToo fervor, which saw several cast members apologizing for their involvement and donating their salaries. European distributors released the title throughout Europe in 2019, where it would find a home at the Deauville Film Festival, among many other venues, and at long last, in the third quarter of 2020, hits US theaters.
While Allen's career continues abroad, what could stand as his last love letter to the city which made him one of cinema's most noted auteurs is unfortunately a soggy derivative of his favored tropes, a cast of young principles grinding their gears in archaic characterizations which suggests Allen potentially being too out of touch, at least to spin his morbid romantic entanglements through the lens of millennial darlings unable to craft his intentions to their own benefit, as many an Allen leading lady has done in seasons past. Sadly, it's simply one of Allen's many titles which seems to be going through the motions without anything profound or entertaining to convey.
The precocious Gatsby Welles (Timothée Chalamet) has remained an undergrad at Yardley College, a liberal arts school in Upstate New York, solely to be near his girlfriend, Ashleigh (Elle Fanning). Writing for the school paper, she scores an opportunity to interview Roland Pollard (Liev Schreiber), a major contemporary film director in the city, and so Gatsby tags along so they can spend a romantic day together after she's finished. But Ashleigh never quite extricates herself from Pollard's flashy world, a man who takes a liking to the young journalist, offering her a major scoop—he hates the film's he's just completed. Inviting her to a screening, which she attends with his writer Ted Davidoff (Jude Law), he runs away from the experience in a panic. Desiring to find him, Ted and Ashleigh take off together in the city but are waylaid when Ted spies his wife Connie (Rebecca Hall) entering a hotel with his best friend, presuming they're having an affair. During this stakeout, Gatsby has his own series of adventures, stumbling into old classmates, one of whom is making a short film and ropes him into being a walk-on character. The romantic kissing sequence he's becomes ensnared by is shared with Chan Tyrell (Selena Gomez), the younger sister of his ex-girlfriend. Meanwhile, Ashleigh leaves Ted behind to visit another haunt of Pollard's and initiates a liaison with Francisco Vega (Diego Luna), a noted matinee idol. Eventually, Gatsby and Ashleigh finally rendezvous, but not before he's outed by his aunt while visiting a museum with Chan, therefore forced to attend his mother's (Cherry Jones) Autumn Gala, which he had lied about being able to attend.

Doing his best to imitate the hypercivilized and loquacious male Allen archetype, Chalamet unfortunately lands somewhere in the nether world of other such ill conceived attempts at this aping, like Justin Timerblake in Wonder Wheel (2017) or Kenneth Branagh in Celebrity (1998), where the forced nebbish-ness does not become them (especially as compared to a Larry David or Jesse Eisenberg who were adept at formatting their own personifications of Allen's mollified masculinity).
Equally out of her depth is Elle Fanning, who still can charm as an awkward, willowy young woman, but when called upon to be a hiccupping neophyte journalist fails quite miserably (just think of Annie Hall era Diane Keaton in sequence requiring Fanning to portray a besotted, drunken love interest by a famed lothario portrayed by Diego Luna and one sees the pale ghost of a scenario which Allen was once used to convey through mature, idiosyncratic women). Fanning's Ashleigh hardly seems the kind of ingénue would entice not one but three notables of cinema (Schreiber/Law/Luna), but then, seeing as this is an Allen trope, it's to be expected. The twin trajectories of Gatsby and Ashleigh are reflections of the forbidden couplings he favors (sleeping with a sister of a lover/ex-lover and men being cuckolded by their best friends). An opening bit about ticks at Yardley recalls a memorable moment from Judy Davis in Allen's universe, likewise dialogue about Love and Death being two sides of the same coin. Hardly self-reflexive easter eggs, these familiarities cement the derivative nature of the narrative.
Lensed by his late-period favored cinematographer Vittorio Storaro (who has been DP for Allen since 2016's Café Society), A Rainy Day in New York does render a certain magical finesse visually, although it often doesn't feel like a contemporary snapshot of the city, or as if it exists in a reality-adjacent universe. Dual visual motifs haunt the leads, such as Chalamet's tentative romance originating in the open roofed car on a film set during a rainy day doubled by Fanning's more tenuous revolutions in Law's closed car in the diegetic environment suggesting the requisite tools are available, but prisoner to incredibly inauthentic characterizations. Chalamet's Gatsby Welles seems on the precipice of a Salinger inspired Holden Caulfield nervous breakdown, and the well-heeled environs skirting around on screen like a mélange of inspirations from the pages of Nine Stories (1953).
★★/☆☆☆☆☆