Reviews
Dead Snow 2: Red vs. Dead | Review
Dead Again: Wirkola Outstays Welcome of Outlandish Gimmick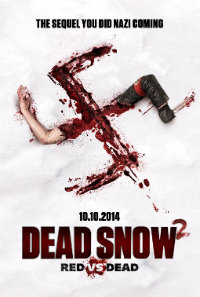 For those that were generally amused by Norwegian filmmaker Tommy Wirkola's breakout festival hit Dead Snow (2009), in which a group of skiers were accosted by a gaggle of Nazi zombies, then avoiding its sequel, Dead Snow 2: Red vs. Dead may be in order if you wish to retain your pleasant memories of the first chapter. Suffering from a rampage of defiant narrative mistakes often administered in unnecessary sequels, this rehash is laconic, unenthusiastic and inherently routine. Now, the motivation of these zombie zealots has to be rationalized and explained to some degree, which only kills the slightly amusing idiocy of the first film—a feeling akin to the difference between joking about an easy target like Christian Scientologists, and then, say, being forced to attend an eight hour seminar that seriously teaches its religious tenets.
Surviving the initial Nazi attack, Martin (Vegar Hoel), relates the events of the last film to bring us up to speed. After losing his friends and girlfriend, Martin was forced to cut off his own infected arm. A final showdown with the zombie leader Col. Herzog (Orjan Gamst) sees him drive off a cliff with Herzog's arm. Waking up in a hospital, the police think he's killed his friends and don't believe that zombie racket for one single second. But they've also replaced his missing arm with the one they found in the wreck, for some inane reason. It's a malevolent, vicious arm, and has a mind of its own, apparently. Busting his way out of the hospital with his new appendage, Martin receives assistance in the form of Glen (Stig Frode Henriksen, returning in a different manner from the first film), a Museum employee who explains why the zombies may still want to eliminate a small Norwegian area, and a trio of American siblings (Martin Starr, Jocelyn DeBoer, and Ingrid Haas), who live in their parents' attic but refer to themselves as the Zombie Squad, a group of zombie fighters that have been preparing for a zombie apocalypse.
Wirkola's first film had a handful of memorably insane moments that managed to transcend the simplicity of its basic narrative. Remember that intestinal cliffhanger or that raunchy outhouse sequence? Well, we get only one of those moments in the hour and forty minutes laid out for us here, and it involves a strand from the first film and comes at the very tale end of the sequel. It's treated almost as a throwaway outtake and is unfortunately soaked in the vocals of Bonnie Tyler, but it's probably the only similar takeaway from the entire film. Otherwise, we just slog through the opening minutes, wherein returning cast mate Vegar Hoel updates us through the present. Hoel also serves as co-writer; one wonders why he wasn't able to write himself a better role.
For those familiar with Norwegian cinema, you'll be surprised to realize that, yes, that's Kristoffer Joner as the "sidekick zombie," who gets used as merely a comedic prop. But as bland as the Norwegian characters may seem, including a gay WWII museum employee, it's use of a trio of American siblings that have been preparing for this inevitable zombie attack, is incredibly grating, with one of them inanely reduced to being an extreme fans of Star Wars in an odd bid for rapport with an addict prone fan base.
Fumbling endlessly into violent zombie gore attacks whenever it can't think of something better to show us, we learn that these undead Nazis are hell-bent on revenge and annoyingly unaware that their Fuhrer no longer cares about their failed mission. One wishes Wirkola had used better judgment and realized that it's okay not to make a sequel (hopefully Finnish helmer doesn't do the same with his 2012 Nazis on the moon film Iron Sky) just because a bit of attention dictates it. But hey, Dead Snow 2 is no worse than Wirkola's English language film in between these ventures, Hansel & Gretel: Witch Hunters (2013).
★½/☆☆☆☆☆