A Male (Un Varón) | 2022 Cannes Film Festival Review
Wild in the Streets: Hernandez Explores Toxic Trifecta of Violence, Masculinity and Poverty in Dour Debut
With a streetwise miserabilism as virile as anything from the pages of Dickens, Fabian Hernández descends upon the poverty stricken streets of Bogota in his debut, A Man. A narrative as straightforward as its blunt title would suggest, it's a feral, often troubling tale of survival in a bleak, hopeless world which defines many contemporary narratives arriving from Latin and South America.
As stark as any piece of recent neorealism, the success of Hernández's film rests on the shoulders of a young protagonist performed by a first-time actor mired in the day-to-day business of survival. Many may find the film is an exercise in degradation we've seen before, though Hernandez perhaps lands upon a cynicism beyond the violent crescendos built by his peers and predecessors who are operating in the same realm of urban squalor and omnipresent dread.
While his mother serves a prison sentence and his sister Nicole sells herself precariously on the streets, the sensitive teenager Carlos (Dilan Felipe Ramirez Espitia) is forced to live in a packed shelter in the center of Bogota. Realizing he must fend for himself in this hostile, masculine environment, he adopts the stereotypical machismo characteristics required of him. Quickly, he changes his haircut and accepts a role as a drug pusher in the shelter, each night going out into the streets to find his sister. Christmas looms, and the opportunity to spend the holiday with his sister and incarcerated mother occupies his thoughts, but happiness and a potential reunion seems more impossible every day.
Hernandez joins the likes of Mexico's Michel Franco and Venezuela's Lorenzo Vigas, both who have generated filmographies built on sinister, slender narratives tightly focused on desperate characters. In particular, A Male recalls both From Afar (2014) and The Box (2021) from Vigas, both titles dealing with male teens wading through the trauma of parental neglect or the shortcomings of troubling parental figures.
Newcomer Dilan Felipe Ramirez Espitia has much in common with the performances of the teen leads in these comparative titles—shell shocked, pensive, and clearly not yet as hard boiled as the young men he's interacting with. In one of the film's most chilling moments, he nearly gets roped into being sex trafficked while trying to find his sister, whose life also seems to be hanging by a thread as a sex worker without any agency.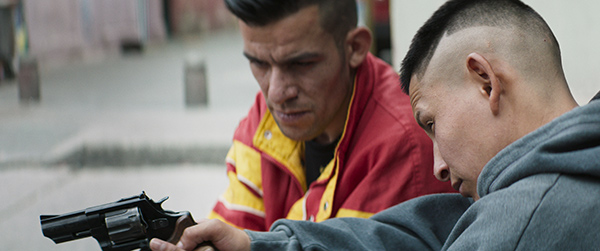 Despite ubiquitous scenes with older sex workers seemingly obsessed with initiating teen boys into the world of sexuality (nothing Melvin Van Peebles didn't initiate, perhaps more shockingly so, in Sweet Sweetback's Baadasssss Song way back in 1971), Hernández finds more interesting elements for Carlos to explore in quiet, peripheral moments. Playing with lipstick, he paints a mustache on his mirror image which doubles as the lip enhancement he could never dare experiment with in the flesh, for instance. The specter of Christmas in the background is perhaps the film's cruelest aside, a joyful holiday reduced instead to a glaring reminder of the safety and stability eluding Carlos and countless others like him.
Opening with confessional asides from staff members working in the shelter reflecting on the difficulty of living on the streets, the pervasive tentacles one mentions defines the metaphor of how Hernández's film is operating, leaving us behind with a Carlos not so much transformed as warily and wearily resigned to an inevitability.
Reviewed on May 24th at the 2022 Cannes Film Festival – Directors' Fortnight. 82 Mins
★★★½/☆☆☆☆☆