A Human Voice: Wiseman Explores Catharsis and Suppression in Tranquil Soliloquy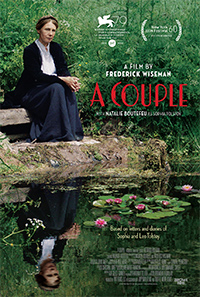 It's no secret the Tolstoy household was also unhappy in its own unhappy way thanks to a myriad of diaries, letters, and perhaps the iconic masterworks of the author himself to prove it. The state of Leo and Sophia Tolstoy's marriage is at the heart of Un Couple from perennial documentarian Frederick Wiseman, who presents a drastic change of pace from his well-researched explorations of events or noted institutions.
Penned by and starring Nathalie Boutefeu (who has appeared in many notable films and is married to celebrated cinematographer Eric Gautier), it's an hour long one-woman showcase for the actor, presenting the inner turmoil of Sophia through a series of soliloquies culled from her letters to her husband and her diary. Shot in the La Boulaye Garden on the island of Belle Île, it's a minimalist's endeavor, marrying the buzzing tranquility of nature with a woman's distress about her life of lost opportunities and a marital strife she has no control over.
Sophia (Boutefeu) was married to Leo Tolstoy for thirty-six years, having thirteen children together, though four of them would not survive. Having met the famed author when she was only eighteen years old, theirs was a relationship marked by significant dysfunction, in part due to her being forced to repress her own creative pursuits to run a household her husband was often absent from, if not physically, emotionally. Bouts of peace and passion would sustain them, but Sophia's significant internalized conflicts reflect a raging desire to be more than what life offered her, taken from letters the couple wrote to another (even when they were both home at the same time) and her diary.
Albeit a slight film in comparison to Wiseman's lengthier exposes, Un Couple is an impressive showcase for Boutefeu, asking questions and navigating emotions suggesting her only therapeutic outlet was, perhaps, her writing, which was stillborn in the shadow of her literary titan of a husband. Theirs is a relationship depicted previously, such as the more melodramatic English language The Last Station (2009), in which Helen Mirren portrayed Sophia towards the end of her husband's life. Those familiar with some of Tolstoy's tropes, who was both religious and highly critical of infidelity, especially when committed by women (Anna Karenina; The Kreutzer Sonata) can glean a better understanding of how his marriage to Sophia specifically might have influenced some of his works based on the various asides mentioned here.
The mechanism of a woman pouring her heart out to her lover (though he's not on hand to respond) recalls the famed, and heavily adapted The Human Voice by Jean Cocteau, and Boutefeu has concocted a rich new template of agony, rage, and forgiveness for which to showcase her talents. Although there's a sense of monotony, Wiseman's editing smooths over its placidity with various breaks and blocking, presenting Sophia amongst various natural backdrops. On the other hand, Un Couple is a pastoral portrait of nature's onslaught and obliviousness, creating a beautiful summertime lull as an undertow to Sophia's despair. She often fusses with the foliage around her, but the hum of bees amidst exquisite naturally occurring floral sculptures is a character itself, suggesting the actual titular couple might be Sophia and nature.
What we learn of Tolstoy is a penchant for mercurial moods and a preference for lust over love, which tragically meant she had no access to other outlets, unlike her husband. While this isn't exactly the tragedy inflicted upon Antonina Tchaikovsky, it's an interesting recuperation of what historically happened to women eclipsed and conditioned to serve culturally relevant husbands they were hobbled from competing with.
Reviewed on September 2nd at the 2022 Venice Film Festival – In Competition. 64 Mins.
★★★½/☆☆☆☆☆