Reviews
Guardians of the Galaxy | Review
Rocket Fuelled; Gunn Pleasures Summer PG-Spot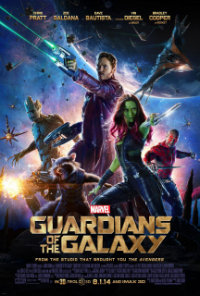 It's the end of the world as we know it. Or so the popcorn films of the summer thus far would have us believe. From the knock 'em, sock 'em eyesore that was Transformers: Age of Extinction to the poetic Snowpiercer, this summer's movies have recurrently reinforced that we are living in a dog-eat-dog, every-man-for-himself society and thankfully this is not the case in Guardians of the Galaxy, the multiplexes' savior from the otherwise humorless and joyless fare on offer. Writer/director James Gunn (Slither, Super) has not only infused some much needed fun back into the subgenre, but he reminds auds to embrace each other with open arms. Though at times tonally inconsistent, this is the perfect lighthearted antidote to its summer release superhero predecessors.
Initially established in 1969, Marvel's 'Guardians of the Galaxy' comic books have seen numerous changes over the years, including a reboot in 2008 on the central members of the Guardians. Writers Gunn and Nicole Perlman base their script on this newly-established iteration of the group, who include Peter Quill aka Star Lord (Chris Pratt), the Captain Kirk of the motley crew, Gamora (Zoe Saldana), a green-skinned deadly assassin, Drax (Dave Bautista), a heavily tattooed intergalactic being seeking vengeance, Groot (voiced by Vin Diesel), a kindly tree, and Rocket Raccoon (voiced by Bradley Cooper), a wise-cracking smart-ass raccoon. Together they must assemble to stop the megalomaniacal Ronan (Lee Pace) from using a prized orb to terminate the planets.
From Quill's opening scene that is lovingly mimetic of both Singin' in the Rain and Raiders of the Lost Ark, to Groot and Rocket's droll camaraderie that recalls C3PO and R2D2 of Star Wars, 'Guardians' pays homage to a range of beloved film references deeply embedded in the cultural zeitgeist. Without any well-known Marvel characters such as Thor or The Hulk to lure in viewers, Gunn instead draws the audience in with cinematic comfort food in the form of a loveable team of outsiders, self-aware self-deprecating humour, an eclectic 1970s era soundtrack that mirrors Reservoir Dogs, and more than enough confident bravado to pull it all off.
From the dexterous cast led by Chris Pratt, to the awe-inspiring cinematography by Ben Davis, to the gorgeous and distinctive production design by Charles Wood, Guardians of the Galaxy is a well-crafted and sunny kernel in a summer of sunless solitude.
★★★½/☆☆☆☆☆