Reviews
High Society | 2014 TIFF Review
Is There More to this Coming-of-Age Parable Than Meets the Eye?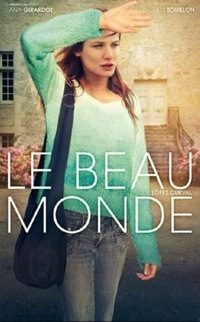 One of the key specificities about the production of Julie Lopes Curval's latest exploration of female social development, High Society, is the fact that she utilized a team comprised almost entirely of women to influence the creative and technical contingents. It's a decision that has pointed intentions in itself, suggesting a conscious decision to evade male influence and authority within the context of a story that's ostensibly and subtle female coming-of-age parable. It also clarifies any ambiguity surrounding interpretation of a text that, while effective, doesn't quite spell out its position on gender relations.
The plot, in itself, isn't particularly revolutionary or original in any way. It's like a humbler, less literal, version of Stephen Gaghan's forgettable thriller, Abandon, in its positioning of a young, determined female protagonist—Alice (Ana Girardot)—in the midst of life-defining situations obscured by the influence of a charismatic, domineering male love interest. Here, the seething cynicism directed at the aloofness of the corporate life is eschewed in favour of painting a portrait of young artists at the precipice of change, however.
Alice, a modest, almost diffident young woman from a small town in Normandy, after being encouraged by Agnés (Aurélia Petit), a wealthy visitor that spots her talent, is accepted into the Ecole Duperré in Paris, a prestigious school for Applied Arts. Her artistic medium is wool portraiture, a tactile style that isn't particular subtle in its allusions to pubic hair and vaginal openings. Though the creation of her art and the presentation of it reflects her state of mind, the focus of the story—and the focus of her art—consistently leads back to Agnes's son, Antoine (Bastien Bouillon).
Curval's style, which is simultaneously intimate and detached, having a dreamlike observational sensibility that's as authentic as it is distancing, refuses to assert an opinion or any sense of judgement on what it documents. Alice's preoccupation with the affluent, cocky Antoine, a rather stereotypical representation of male entitlement and class system condescension, spouting only high-minded ideals when it comes to his pursuit of art, is implicitly problematic. As she explores her sexual awakening with him and starts to lose part of her identity in his pursuits and his needs, there's a diminishing and sense of irrelevance in her art.
Antoine, coming from money and having the disposition of being a straight white male in a culture that validates the whims and desires of his piety—while marginalizing everyone else's—never questions if he deserves the status he strives for or the relationship he dabbles with. By sheer merit of gender and class, Alice is constantly aware of her social status and implicitly questions whether or not she deserves any more than what the world has handed her. The obsession with Antoine is, in its own way, a parallel to the experience of a meek person thrust into a highly pretentious, highly competitive city life fuelled by academia and other, mostly irrelevant, erudite minutiae.
What inspires the character arc is Alice's inner-struggle with the notion of self in relation to the traditional role of women in this scenario, which is that of maternal support system. This is where Curval's decision to employ only women in key positions on her crew establishes its own subtextual logic. Noting the domineering presence of a male figure within the story of High Society, and the associated class system structure that oppresses Alice, it seems that Curval was trying to evade the sense of conflict and entitlement that a patriarchal construct denotes. In removing a potential Antoine from the artistic discussion, the risk of losing integrity—the very risk that Alice confronts in the story—is reduced and presumably diminished.
As such, the lack of sensational elements or forced morality presented within this very low-key drama is indicative of the female creativity behind the camera. It also means that a large percentage of the audience will notice only that very little happens throughout the film and that its basic coming-of-age framework is exceedingly familiar.
Still, those familiar with the doubt and loss of self associated with being on the periphery of social norms should appreciate the delicate, non-confrontational way that Julie Lopes Curval made her point.
Reviewed on September 8th at the 2014 Toronto International Film Festival – Contemporary World Cinema Programme. 95 Minutes
★★★½/☆☆☆☆☆