Reviews
They Have Escaped | 2014 TIFF Review
Running on Empty: Valkeapaa's Vicious Road Trip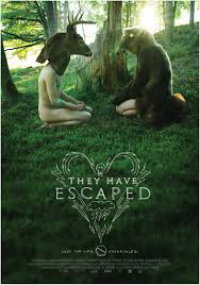 We may have seen similar iterations of outcast, adolescent misfits refusing to conform to the world's expectations many times over, but with his sophomore film, They Have Escaped, Finnish director JP Valkeapaa has created an unnerving and unexpectedly off kilter teen romance that goes down a road less traveled. Throughout what seems a prolonged set-up, a variety of interactions with various institutions inevitably result in escalating instances of two teens engaging in petty crime due to cold shoulders, apathetic adults, and uncompromising rulebooks. We're lulled into a sense of security as to where the journey's taking us until a late switch up severely alters the tone of the film to upsetting effect.
His stutter forcing him to go AWOL from military service, quiet and shy Joni (Teppo Manner) is assigned to complete his service at a halfway house for troubled teens or face jail time. While he's equally rejected by the motley crew residing there, he befriends abrasive punk Raissa (Roosa Soderholm), a bleached blonde fury with raccoon eyes. They decide to steal a car and escape together, cutting a wayward path to Raissa's parents where she claims to have a sizeable wad of cash hidden in the bottom of a picture box. Unable to locate her box, her parents call the police, forcing them to flee, shoeless, into Helsinki. A traveling salesman gives them a ride and Raissa stumbles onto her grandmother's home. But left alone to their devices again, the couple runs into a troubling and incredibly extreme situation that rivals the backwoods horror of Deliverance.
Once we're out on the road with Joni and Raissa, Valkeapaa turns their developing relationship into a hazy fever dream, punctuated by reality only when it's necessitated by base needs, such as fleeing from authorities or acquiring food and shelter. How they're processing their experience is exhibited intriguingly in their dreams, of which we catch arresting glimpses of, filled with primal imagery and developmental childhood memories.
A melding of production design by Markuu Patila and a pronounced soundtrack make They Have Escaped a constant transfixing journey that seems geared to deliberately unbalance us through a barrage of sound and noise, its visual cues crossing into Lynchian nightmare territory.
We get lost with the troubled teens in their self-satisfied euphoria away from the world, so upon encountering an incredibly violent situation, we're completely startled and unbalanced in its third act. Increasingly, the film begins to feel like a warped and modernized Grimm Bros. fairy tale. If its title at first seems a cloying descriptor concerning a set of wayward teens, it takes on an eerie pallor by the time the credits roll.
We learn very little about our main protagonists, and we're left thinking it perhaps doesn't even matter, as this concerns two people who know little more about themselves other than the fact that they don't fit in. Rumblings about this required military service and the violent consequences enacted upon those rejecting it perhaps grants a deeper meaning to the menace encountered in the woods.
As Joni, Teppo Manner gives a very mild mannered and expressive performance, his interactions requiring little to no dialogue. Roosa Soderholm's Raissa is a bit more expressive, a blonde punk resembling Fairuza Balk dressed up as Debbie Harry for Halloween. By the time we leave them behind, ending with an ambiguity that will only leave you further disjointed, you'll realize Valkeapaa has managed to burrow deeply into your skin.
Reviewed on September 8 at the 2014 Toronto International Film Festival – Vanguard Programme. 101 Minutes.
★★★½/☆☆☆☆☆