I Remember Mama: Kore-eda Anoints Deneuve as a Diva in Pleasurable Drama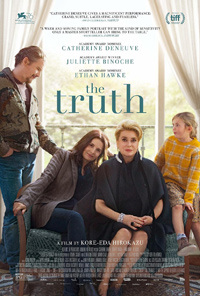 A subtle exercise in the limited reality of both perspective and memory, auteur Hirokazu Kore-eda's first foray outside of his native Japan with The Truth (La vérité) is a meta-textual narrative on motherhood and filmmaking. Pairing Catherine Deneuve and Juliette Binoche as an antagonizing mother and daughter duo, Kore-eda's first film following his 2018 Palme d'Or win for Shoplifters is a departure in many ways, as it melds his familiar themes of emotionally fraught familial ties with titans of the French film industry, both whose presence recalls similar vehicles they've starred in for names like Olivier Assayas and Andre Techine. At the same time, Kore-eda impressively weaves a strong emotional undercurrent which often takes surprising hold, and allows for Deneuve and Binoche to display their impeccable skills as they riff on their own iconicity.
New York based screenwriter Lumir (Binoche) packs up husband Hank (Ethan Hawke) and their daughter to fly to Paris to join her mother, famed actress Fabienne (Deneuve), in celebration of the latter's memoirs. At seventy-three, Fabienne shows no signs of slowing, currently filming a new project as her memoirs hit store shelves. As it turns out, Lumir has made a point to visit for the first time in years not to celebrate but so she can get a glimpse at what her mother's written, seeing as they don't have a copacetic relationship. As predicted, Fabienne's memory of her life is a bit happier than the childhood Lumir remembers, and another dead actress from their past returns to haunt them in full force (likewise, this deceased figure is the sole reason Fabienne has agreed to appear in her latest film as it stars an ingenue who has earned comparisons to this mysterious figure). As fact vs. fiction and film projects vs. reality clash, requiring blunt differentiation, both women must examine the faults in both their perspectives.
If Joan Crawford or Bette Davis had written their own memoirs instead of the tabloid tell-alls famously penned by their children, it would have probably looked like the rosy-tinted reimagination penned by Fabienne. However, while the truth sometimes hurts, falsifications will always sting, as the actress learns based on the vituperative responses of her daughter and long-time assistance Luc (Alain Libolt), who finds he's been written out of her life entirely. Deneuve, who penned her own memoirs, Close Up and Personal in 2006, crafts a characterization which seems to be a gross exaggeration of her own life and self-image.
Playing an iconic septuagenarian, the dramatic catalyst which resulted in the rift with Lumir remains the ghost of another dead actress who had been close to the family and major professional competition for Fabienne, whose death she harbors secret guilt about. Deneuve's own sister who was famous before her, Francoise Dorleac, died in a tragic car accident in her prime, and allusions to her seem to be folded into this storyline. Likewise, like Fabienne, Deneuve was being groomed for a lead in a Hitchcock production before his death. The casting of Ludivine Sagnier is an interesting footnote as well, here playing the younger version of Fabienne in their film-production whilst she played a younger version of Deneuve in Christophe Honore's 2011 film Beloved. And Roger Van Hool, here playing Deneuve's ex-husband, was her lover in 1968's Heartbeat.
Faded and forgotten memories bring the barely concealed resentments of Lumir and Fabienne to light, but paired with the concurrent film production, Memories of My Mother, which collapses death, immortality and reversed familial dynamics, allows Kore-eda a much broader, more ambitious platform for which his usual themes of neglectful parents and unhappy children dance across. If at times the film-within-a-film novelty seems to wear thin, it's Deneuve's icy but insecure performance which transforms Fabienne from a cold harridan into a defiant woman intent on retaining her career and status (a brief moment of shade thrown towards Bridget Bardot, one of Deneuve's most famous colleagues when she first began an international icon the late 1960s, is one of the few moments where Kore-eda makes a direct cinematic reference to a real persona). Ethan Hawke plays a likeable recovering alcoholic and adds a bit of unexpected levity, though he's often reduced to acting alongside the child actors (including newcomer Clementine Grenier as their daughter, the usual composite of Kore-eda's precociously rendered child characters), which might be because Hank, a struggling American actor, doesn't take himself so seriously, while his wife and mother-in-law define their worth through the recognition they receive in their industry.
Cinema must have a sense of poetry, Fabienne contends, eschewing work with experimental directors and predicting her current project will not be a notable work being a genre piece written by a young man. The transformations of both women is slight, and whatever reconciliations take place are hardly earth-shattering. And yet, despite the distraction of its larger-than-life stars outfitted by their extravagant fictional existences, The Truth manages to be emotionally rewarding and at times, sublime.
Reviewed on September 5th at the 2019 Toronto International Film Festival – Special Presentations Program. 106 Mins.
★★★/☆☆☆☆☆