The Unknown Man of Shandigor (1967) | 2021 Fantasia Film Festival Review
Cold Cuts: Roy's Nuclear Spy Thriller Renews Its Half-Life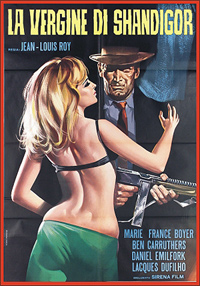 In The Unknown Man of Shandigor, one can experience a cinematic time capsule of corresponding themes and fixation. An obscure oddity from the late 1960s, it's a pulpy sci-fi satire reflecting Cold War sentiments and nuclear fears, and was the French-leaning debut feature of Swiss filmmaker Jean-Louis Roy.
Competing at Cannes and then part of Locarno's program, it was criticized for not feeling Swiss enough (Roy would be a forefather of revitalizing Swiss television), but its title indicates an intended playfulness with both the fatalism and exoticism of James Bond semantics despite stark visuals and clandestine menace suggesting humorless satire. Even Serge Gainsbourg, who provides an original song, sits comfortably in sourness. Reminiscent of other titles which would define this period and these sentiments, it's instead an odd little gem which reflects its own unique sparkle.
A crazed, brilliant scientist, Herbert Von Krantz (Daniel Emilfork) has created a device which can neutralize all atomic weapons. Referred to as The Canceler (aka The Annulator). In order to keep the device out of the wrong hands, he retreats to an isolated estate, where his beautiful step daughter Sylvaina (Marie-France Boyer) and albino assistant Yvan (Marcel Imhoff) languish. A group of bald, rival spies, commanded by a hirsute leader (Serge Gainsbourg) are eager to infiltrate his lair to take the device.
The real pleasures of The Unknown Man of Shandigor exist in its playful visualizations, with synchronized spies and a pronouncedly bitchy performance from Daniel Emilfork as the crazed Von Krantz, recalling De Palma's use of William Finley in his early works. Emilfork was utilized by a host of Euro auteurs in their bizarro visions, like Alain Robbe-Grillet and Jeunet & Caro.
More of an accent is Serge Gainsbourg, who appears to be an inert necessity until he gets to belt out his "Bye Bye Mister Spy" track for our audio pleasures in a funeral parlor at the hour mark. Marie-France Boyer headlines as Von Krantz's niece, fresh off her role in Agnes Varda's La Bonheur (1965), but treated merely as a blonde fixture, a damsel in distress who appears to be somewhat useless until the finale. DP Roger Bimapge and production designer Michel Braun (his only credit) seem to be having more fun, and the film feels like an odd bridge between Godard's Alphaville (1965) and Kubrick's juggernaut Dr. Strangelove (1964). Von Krantz's sinister hideout recalls the isolated realm of early Cronenberg nasties, like Oliver Reed's psychiatric sanctuary in The Brood (1979), featuring architecture from Antoni Gaudi.

Although the film is clearly disinterested in attempting to vocalize how exactly the Canceler works in its 'sterilization' of atomic bombs, the intention is, as expected, the race to control the discovery and thereby command world power. A spy dooned to suicide in an exploding kamikaze coat lends itself to a rather spellbinding visual in the film's denouement, but the resurrection of Shandigor doesn't justify an interest for anyone outside arthouse cinefiles or fans of various cast or crew, suggesting a two-part episode of period television shows, like "The Avengers."
Reviewed on August 25th at the 2021 Fantasia Film Festival. 90 Minutes
★★★/☆☆☆☆☆