Stabbing Backwards: Dardennes "Beet" Misguided Youth into Submission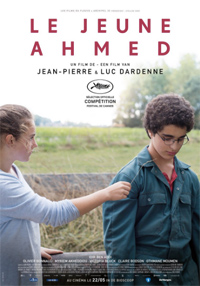 Up until now, even the most disenfranchised personage in Dardennian cinema had at least a glimmer of hope for not necessarily a better future, but, for one day of reprieve. With Young Ahmed we are once again rendezvousing with a form of suffering but here in the shape of needing to conform and put into practice one hazardous ideology.
In perhaps their most socio-political feature to date where free will is not a option, Jean-Pierre and Luc Dardenne move away from classism, and strive for an economical in design essay paper thin look into radicalism and extremism. A physical and relentless film, comparatively this takes a sharp turn away from their usual playbook infusing their dramatic text with one that disrupts the notion of equating youth with hope. While topically important, the drama feels less lived in and less weighty making for a drama that would have needed a more decisive stab at the subject matter.
Pre-pubescent Ahmed (played by non-professional Idir Ben Addi) leads us on a ping-ponged tour moving from trouble at school, indoctrination from influential imam and onto clashes at home. With the women in his life — mother (Claire Bodson), sister and teacher (Myriem Akheddiou) all vilified, one extreme decisive act places this child into correction system crosshairs. While those around him might believe in the elbow grease and are more committed to the process of identifying victimization, culpability and responsibility, Ahmed takes a detour. Appearances are deceiving, and when left unchecked, a toothbrush can fight cavities but here it acts as his sword which contextually represents what he might be committed to.
With audiences privy to the protagonist's true intentions, a return to normality and playing video games pleas from his mother are indeed part of the distant past (and part of an unwitnessed backstory) but does working the farm offer a pathway to redemption or is this one more obstacle before he becomes a jihadist like his deceased uncle? Not unlike film texts from their reportoire in 2002's Le fils and 2011's The Kid with a Bike where adults heavily influence the pathway a child will embark on, we are witness to how a lack of will to engage in dialogue (the rapport between adults and children and secondly, interpretations of the Quran) ultimately make for a too little too late toxic stew.
Familiar fly-on-the-wall chaotic camerawork adds to the degree of the protagonist's unpredictability, and true intent, while Ben Addi's performance is fierce positioning a determination that makes this an engaging watch. Will the culmination of events make him the poster boy for those who fall through the cracks?
For eleventh feature film, the Dardennes step on the gas but a there is a more impactful portrait here — a starting point discussion piece for what has plagued Europe (including the Dardenne's native Belgium in recent times) and is coded with no attempts to solve the unsolvable, the Young Ahmed feels as if it sweeps not only pics but some thorny issues under the rug.
Reviewed on May 20th at the 2019 Cannes Film Festival – Competition. 90 Minutes.
★★½/☆☆☆☆☆