The Wages of Ham: Jakubowicz Mimes Melodrama in Offkey Resistance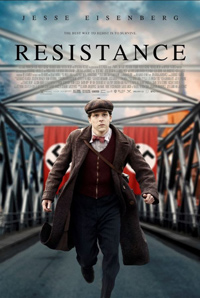 For his third film, Venezuelan born Jonathan Jakubowicz falls headlong into an acceptable faux pas of English language cinema with the woeful, tonally inept Resistance, a portrait of the famed mime Marcel Marceau's teenage years in Nazi occupied France. Starring Jesse Eisenberg, utilizing accented English and at least a decade older and then his subject, one can't blame Jakubowicz's headliner for the film's eventual triteness, whose performance is enjoyable enough as this odd entry point in what is otherwise a shapeless succession in melodramas which could easily be constituted as Holocaust exploitation.

As a young Marcel Marceau (Eisenberg) begins to practice his craft as mime in 1938 Strasbourg, much to the chagrin of his father, he ends up working with the Jewish Boy Scouts in the French Resistance to transport Jewish orphans to safety. At the same time, he romances Emma (Clemence Poesy).

What would have made Resistance an item of note, either for audiences or the estate/legacy of Marcel Marceau would have been a film made in the man's native language, for one. But just as Jakubowicz's biopic does little for characterizing Marceau, he also drops the ball in presenting one of the most infamous Nazis, Klaus Barbie (Matthias Schweighofer), the Butcher of Lyon, here portrayed as merely another garden variety terrorist who likes to violently beat subjects in public and torture his victims in a vacant swimming pool before executing them.

To be sure, the violence staged in Resistance creates the discomfort such depictions should, but these moments seem calibrated for shock value, creating moments of numbed apathy to whatever dramatic approximations follow (including a cliched staging on a train involving Poesy in a bathroom). What would have potentially been more powerful would have been to incorporate Hannah Arendt's banality of evil theory in Barbie's portrayal.


A handful of noted European actors, including Geza Rohrig of Son of Saul (2015) and Karl Markovics of The Counterfeiters (2007) are wasted, while French actor Felix Moati, who is supposed to be Marceau's brother (which the script keeps reminding us of), would have been better cast as Marceau. Edgar Ramirez (who starred in Jakubowicz's last film Hands of Stone, 2016) appears briefly as a Jewish father murdered in Munich, while Ed Harris awkwardly bookends the film as George S. Patton.

Although the importance of the material cannot be contested, Resistance is not a sterling example of what it could or should have been, despite it avoiding the embarrassment of notorious items like The Day the Clown Cried, the unreleased 1972 Jerry Lewis film. As far as Marceau goes, the world's most famous mime, Resistance might be a reminder to check out his noted filmography, which includes Barbarella, Shanks a 1974 weirdo B-flick from William Castle, and Mel Brooks' Silent Movie (1976).

★/☆☆☆☆☆

IONCINEMA.com's Chief Film Critic Nicholas Bell reviews Jonathan Jakubowicz's Resistance (2020) / IONCINEMA.com.

Please support us by SUBSCRIBING to our Youtube channel!:
https://www.youtube.com/user/ioncinema?sub_confirmation=1

You can visit our site and read the original article:
Let us know what you think of Jonathan Jakubowicz's Resistance – leave your comments below!
CONNECT with IONCINEMA.com
Visit our website: https://www.ioncinema.com
Twitter: https://twitter.com/ioncinema
Facebook: https://www.facebook.com/ioncinema
Instagram: http://instagram.com/ioncinema
Film Credits:
Producers: Jonathan Jakubowicz, Claudine Jakubowicz, Dan Maag, Carlos Garcia de Paredes, Patrick Zorer.
Director, writer: Jonathan Jakubowicz.
Camera: Miguel I. Littin-Menz.
Editors: Alexander Berner, Jonathan Jakubowicz.
Music: Angelo Milli.
Cast: Jesse Eisenberg, Ed Harris, Edgar Ramirez, Clémence Poésy, Matthias Schweighöfer, Félix Moati, Geza Rohrig, Karl Markovics, Bella Ramsey.
★★★★★½/☆☆☆☆☆
BODY >
DON'T FORGET AMAZON LINKS!
Jonathan Jakubowicz, Claudine Jakubowicz, Dan Maag, Carlos Garcia de Paredes, Patrick Zorer, Miguel I. Littin-Menz, Alexander Berner, Jonathan Jakubowicz, Angelo Milli, Jesse Eisenberg, Ed Harris, Edgar Ramirez, Clémence Poésy, Matthias Schweighöfer, Félix Moati, Geza Rohrig, Karl Markovics, Bella Ramsey, Jonathan Jakubowicz