The Killing of a Sacred Deer | 2017 Cannes Film Festival Review
The Dear Hunter: Lanthimos Flatlines with Terse Revenge Fantasy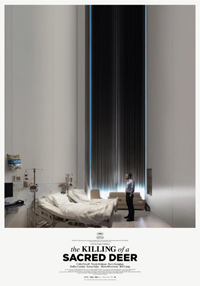 There's no arguing the unique capabilities of Greek Weird Wave alum Yorgos Lanthimos, who broke out back in 2009 with Dogtooth. However, sailing into his second English language venture, the mysterious, highly metaphorical The Killing of a Sacred Deer finds the director getting a bit too hung up on his own idiosyncrasies. Molding the cityscape of Cincinnati into his own distorted parallel universe template, the story of a happily married doctor quickly turns sinister when the reason for his secret liaisons with an unbalanced teenage boy are suddenly revealed. Chock full of foreboding cues and sickly, angular camera lunges, this latest dark fairytale becomes a boldly monotonous treatment on morality and vengeance.
Steven (Colin Farrell) is a respected cardiologist married to Anna (Nicole Kidman), herself a successful ophthalmologist who runs her own clinic. With two children, Kim (Raffey Cassidy) and Bob (Sunny Suljic), the Murphy's seem to lead an idyllic existence. But Steven continually meets with the teenage Martin (Barry Keoghan) in secret, for reasons which aren't entirely clear, at first. After Steven invites Martin over for family dinner, Martin returns the favor by having his mother (Alicia Silverstone) cook and then try to seduce the doctor. As their amiable meetings and gift exchanges come to a halt, we learn Martin's father died on the operating table thanks to Steven's error, who now feels guilty for the boy's misfortune. Suddenly, young Bob becomes paralyzed and refuses to eat, his older sister soon following suit. As Steven refuses to become Martin's new father, the doctor is told he has to choose one member of his own family to kill—and while he takes time to decide, each of them will become immobilized and begin to die until he makes a choice.
The morose tone of The Killing of a Sacred Deer makes its purposefully unexplained supernatural elements like an adaptation of something from the Old Testament, hearkening back to the bare essence of a scripture with which the concept of 'an eye for an eye' was born. Obviously, the professions of the doctor and his wife are part of the allegory—he makes decisions from the heart, and she is the one who is able to see and interpret what's going on.
Martin's powers, whatever they may be, aren't ever rationalized, though when the doctor visits his home and watches Groundhog's Day, a film with irrational possibilities which are equally illogical, we begin to understand the rueful lesson the doctor must learn. Sans a strange aside with Alicia Silverstone as Martin's lovelorn mom ("I won't let you leave until you try my tart," she cries in dismay), Sacred Deer's characters are straightjacketed into Lanthimos and co-scribe Efthymis Filippou's overtly precise dialogue, which detracts from what could have been a delicious tone established by the continual interjection of the eerie score and DP Thimios Bakatakis, whose camera lurks around corners and follows from bizarre angles like a demon at their heels, even as the doctor and his wife play bizarre sex games in a bedroom which seems modeled after the cold marital chamber of Robert Mitchum and Shelley Winters in The Night of the Hunter (1955).
Farrell, returning as lead after his puppy-eyed turn in 2015's The Lobster, has less of an opportunity to shine. Initial banter involving anesthesiologist Bill Camp's ability to get him a discount on a watch seems incredibly out-of-place considering the palatial estate in which the doctor and his family lives. Continually cryptic exchanges between Kidman and the kids, whose personalities are all so sterilized this might as well be a cousin to The Stepford Wives, eventually become grating, often times running in circles as characters repeat what they've just been told. Eventually, the trials of the doctor, who is forced to kill a sacred 'dear' of his own in the tradition of Sophie's Choice, become merely the fodder of many a B-genre item (for instance, Stephen King's Thinner, which concerned a man whose professional misstep as a crooked lawyer leads to his being cursed by a pack of gypsies, which forces him to sacrifice a family member).
Lanthimos' usual preoccupations with bodily functions and clinically negotiated dialogue is in full force, once more suggesting some latent homoeroticism never quite fully teased. Interesting, but a bit too ambiguous to remain as uncomfortably off-putting as it hopes, The Killing of the Sacred Deer is an interesting concept, albeit one which may have benefitted more within less elusively constructed parameters.
Reviewed on May 21 at the 2017 Cannes Film Festival – Main Competition. 109 Mins
★★½/☆☆☆☆☆