It Takes a Village: Filho & Dornelles Smash Art-House into Grindhouse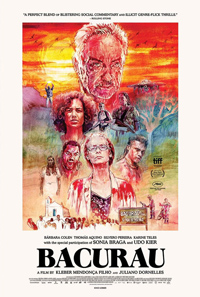 A heady melding of local cultural motifs, morbid politically-minded histories and exploitation slasher vibes, Bacurau, the latest from Brazilian auteur Kleber Mendonça Filho, joined in the director's seat by Juliano Dornelles, is a hard nut to crack, to say the least. Taking its time to showcase an isolated but surprisingly contemporary community in northeast Brazil (so named for a predatory, nocturnal bird), before descending into delightfully schlock gilded mayhem, it's undoubtedly a hybrid original. Which means, unfortunately, it will likely aggravate those who wish Filho and Dornelles would've stayed more squarely in one camp over the other. As far as narrative goes, this is a safari themed version of The Most Dangerous Game (or just imagine something like those trigger-happy Austrians of Ulrich Seidel's Safari hunting humans instead of majestic beasts).
The film opens in CG approximated space, drilling down onto the globe and the interior of Brazil, at a time designated as somewhere in the near future. Two travelers, including Teresa (Barbara Colen) return to Bacurau, a town advertising "If you go, go in peace." They are returning for the funeral of the town matriarch, Carmelita, mother of Teresa. As the villagers mourn, strange things begin to happen. The town seems to have disappeared off the maps, and isn't available on GPS. A corrupt mayor, Tony Jr. (Thardelly Lima) arrives to remind the wary villagers of an upcoming election, dumping books and medicine in the town square during a fruitless attempt to correspond with them. Sinister gun shots in the distance are hardly cause for worry —after all, fellow citizen Lunga (Silvero Pereira), is on the run from the law, hiding out in an abandoned reservoir.
When the water truck arrives riddled with bullet holes followed by two curious strangers on motor bikes, cell phone signals become unavailable. Quickly we learn these strangers are envoys for a group of elite killers who wish to use Bacurau as their own private hunting ground. The villagers, however, are not easy targets.
As far as camp goes, Filho & Dornelles get the best prime-time use out of Udo Kier's particular sensibilities since Paul Morrissey. Of the bloodthirsty tribe he leads, he also seems the sole performer able to navigate the salty dialogue of the unconscionable killers. But we really get to the meat of Bacurau's post colonialist grievances when the film veers into supreme gonzo territory.
A steely Sônia Braga appears as the unofficial leader of the villagers, known as Dr. Domingues, an eccentric and outspoken woman prone to alcoholism. Notably, she's defined by her surname whereas the hunters are known by their first names only, again highlighting the disembodied, colonizing nature of whiteness seeking to obliterate and conquer, sans a noted culture of their own. While local dynamics pertaining to north and south rivalries and past political references might be lost on outsiders, the more universal motifs of Bacurau hinge on increasingly corrupt globalized government corruption, expectedly rising to the foreground in its bloody last act.
Mateus Alves and Tomaz Alves Souza concoct an eclectic soundtrack mixing traditional Brazilian pop songs and eerie electronic cascades—not to mention a sampling of John Carpenter's "Night." This is a far cry from Filho's previous offerings, Neighboring Sounds (2012) and the Braga led Aquarius (2016), stepping out of comfort zones into more experimental terrain. Still, its jarring mix of art-house and exploitation beats to its own unique extensive rhythm, and just when one thinks they've figured Bacurau out, Filho and Dornelles delve deeper into their own bag of theater bizarre to create their own idiosyncratic template.
Reviewed on May 15th at the 2019 Cannes Film Festival – Main Competition, 131 Minutes
★★★★/☆☆☆☆☆