Reviews
Kong: Skull Island | Review
Kong's Crib: Vogt-Roberts Strains Weak Characters Through Special Effects Pageant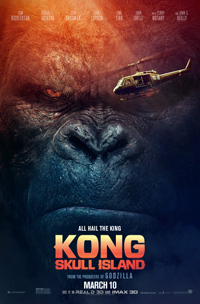 In the continuing tradition of flinging fledgling indie directors into studio tent pole franchise reboots, Jordan Vogt-Roberts joins the ranks of Gareth Edwards (Godzilla, 2014) and Colin Trevorrow (Jurassic World, 2015) with Kong: Skull Island, the first resurrection of the tragic primate in over a decade (last mounted by Peter Jackson back in 2005). Charting similar narrative franchise formulas, a rushed re-introduction to its central characters followed by a deadly encounter and then a prolonged chase sequence of cat and mouse wherein peripheral characters are slowly picked off randomly until building to a climactic showdown, Vogt-Roberts doesn't add much by way of nuance to the elixir consistently regurgitated for the cinematic pleasuredomes of the masses. In fact, many of the complaints aimed at multiple characterizations in his studio entry mimic the ensemble coming-of-age comedy the director broke out of Sundance with back in 2013's The Kings of Summer. On the other hand, this latest restoration of the giant gorilla, a creature which entered the cultural zeitgeist way back in 1933 with the first installation based on a story by Edgar Wallace and Merian C. Cooper, is the most visually extravagant iteration to date, and special effects aficionados will undoubtedly be enthused at the film's inspired action sequences.
Government agent Bill Randa (John Goodman) and seismologist Houston Brooks (Corey Hawkins) are granted resources to survey the unexplored and mysterious land mass known as Skull Island right as US troops are pulled out of Vietnam in 1973. Hiring former British Special Air Service Captain James Conrad (Tom Hiddleston) and war photographer Mason Weaver (Brie Larson), they are escorted by U.S. Army Lt. Col. Preston Packard (Samuel L. Jackson) and his squadron nicknamed the Sky Devils, a necessary service since the island is located behind a dangerous storm system. Once there, the foolhardy humans awaken the giant primate known as King Kong, decimating Packard's army, and awakening an even greater evil lurking below.
Thanks to its particularly potent historical setting, Kong: Skull Island does tend to play like the watered down genre version of Apocalypse Now, although the metaphorical subtexts of the Conrad/Coppola property is way beyond the meager accomplishments of this screenplay by Dan Gilroy, Max Borenstein, and Sevak Anakhasyan. Problems abound with lukewarm characterizations, both on the part of the tenuously written scientists (John Goodman, Corey Hawkins), and rather useless extraneous characters such as Tom Hiddleston's tracker and Brie Larson's photographer, both useless and somewhat extraneous to the proceedings. Even the US army characters, which seem to be modeled after the gung-ho crew featured in James Cameron's Aliens (1986), also a genre response to the conflict in Vietnam, seem completely watered down. The only two cast members to inject any kind of discernable energy are Samuel L. Jackson as the perturbed Colonel, and John C. Reilly as a daffy WWII lieutenant who has lived amongst the indigenous populace on the island for the past three decades (although he only seems able to mumble and gesticulate at them, which apparently these face-tattooed people readily understand).
Corny dialogue and flagging attempts at comic relief yawn precipitously over the film's more overt ecological subtexts, including man's role as the ultimate destroyer of Mother Nature. Obvious soundtracks selections from the period eventually grow tiresome, but Henry Jackman's formidable score often makes up for the same Vietnam era tracks which informed the mood of Forrest Gump (1994).
The film's rationale for why the island has been unexplored by man until this present moment in the early 1970s, due to a roiling storm system which never completely abates, plays like one of Skull Island's many lazy conceptions. Although the film gives the impressively photographed Kong some original two-legged lizard like foes (which seem designed after some visuals from Tim Burton's Beetlejuice, 1988), and includes some exuberant face-offs between them (particularly an eerily staged combat sequence in a mustard cloud of death particles circulating around a mass grave), no one's taking any real risks with Kong: Skull Island except to promise the return of more monster mash-ups. At the end of the day, Vogt-Robert's film is really a pale echo of the kind of adventure stories popularized by Jules Verne, particularly Mysterious Island, which was adapted for the screen back in 1961 with some famed special effects from Ray Harryhausen.
★★½/☆☆☆☆☆