All the Fine Young Cannibals: Guadagnino Crafts Grisly, Devouring Love Story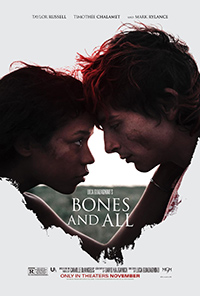 "It's amazing what you can do with a cheap piece of meat if you know how to treat it," says Paul Bartel's murderous restaurateur in Eating Raoul (1982), the cult comedy about killing people and using their carrion as the meat on the menu. One could say the same for Luca Guadagnino's cannibal love story Bones and All, adapted from Camille DeAngelis' 2015 novel by David Kajganich (the director's screenwriter on A Bigger Splash (review) and Suspiria) in a much richer and darker version than the YA constraints of the original text.
Themes about the inherent psychological trauma of animal cruelty are still intact, seeing as, like the film's protagonists, society has found a way to reconcile their needs for an unlimited and destructive supply of meat, but there are sinister, more complex depths in Guadagnino's version, allowing for various intersections to fill in some fruitful characterizations. Though reuniting with Timothée Chalamet, the film is driven by an alluring Taylor Russell, a young woman concerned with disastrous ripple effects caused by her carnal compulsions.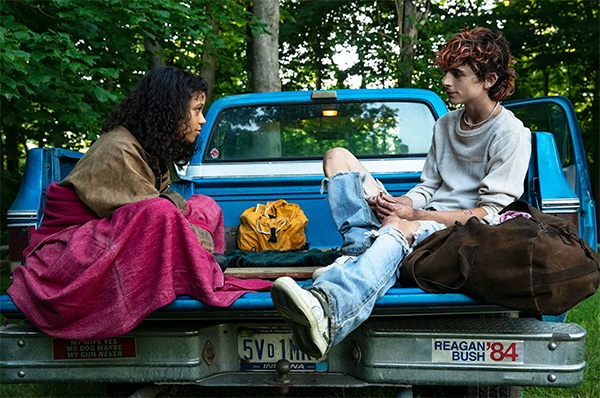 Maren (Russell) is on the verge of turning sixteen, raised by her single father (Andre Holland) in Virginia. But her dad seems to be overly protective, as Maren isn't allowed out at night. Ever. In fact, she's locked in her room until her father lets her out in the morning. But a friend at school challenges her to sneak out for a sleepover, and when Maren shows up to hang out with a trio of girls at school, her father's inhibitions are legitimized when she begins eating one of her classmates as if in a swoon she cannot control. Quickly they pick up and move to Maryland, something they've had to do before. But as she turns sixteen, Maren wakes up to find her father has abandoned her, leaving her some cash, a birth certificate, and a cassette explaining some of her past. Unable to think of what to do, she buys a bus ticket part way to Minnesota, her mother's residence on her birth certificate. In Ohio, she runs into a strange, older gentleman named Sully (Mark Rylance), who confirms, based on her smell, both he and she are the same – 'eaters.' Inviting her to stay with him in the evening at the home of a dying woman, they feast on her corpse before Maren absconds, next running into the handsome Lee (Chalamet) at a grocery store, the two of them instantly smelling one another's condition. Asking for his assistance, the two of them go on the road together, making a pit stop at his family home in Kentucky before heading on to Minnesota. Along the way, their growing affection for one another is compromised by Maren's difficulty in grappling with the reality of the life ahead of her.
Set in the 1980s, presumably a much easier time for 'eaters' to migrate more easily with fake identities and a lack of efficient communication or interconnectivity, Bones and All exists on a strange continuum between the pop trash of Twilight and the sublime Badlands (1973), Malick's debut about a pair of young lovers cutting a murderous swath through South Dakota. Guadagnino changes the gender dynamic of Maren's parents from the novel, now reared by a caring father, a deadly inheritance passed down through her mother's bloodline (confirmed with Chloë Sevigny in an entertaining infirmary cameo in Fergus Falls, MN). He also explores more complex facets of sexuality and race, tossing Chalamet into another striking sex scene which might not top the famed peach sequence in Call My By Your Name but suggests a more potent link between sex and death than DeAngelis conceived in the novel.
Racial attitudes in small town 1970s Minnesota are the implied reason for her parents' rationale for running away together, confirmed quite effectively by Suspiria icon Jessica Harper (who appeared in Guadagnino's 2018 retread), who has an effective accent. But the greatest attribute of Kajganich is the crafting of Sully, the creepy older eater who seems to have a dangerous fascination with Maren, played perfectly by Mark Rylance (who seems a bit like Herbert the Pervert from "Family Guy").
While Michael Stuhlbarg walked away with the best scene in Call Me By Your Name, he returns for another effective sequence as sinister cannibal who has an acolyte in tow (played by David Gordon Green), whose dialogue confirms the meaning of the film's title. As Lee states, every eater seems to have their own rules, but an unspoken one, like in the vampire universe, is never to 'eat an eater.' But surely there are cannibalizing cannibals.
There's also an effective chemistry between Russell and Chalamet, two riders on the storm who found love in a hopeless place, their affection made much more apparent and almost immediate in this version. Although Guadagnino doesn't hit us over the head with 80s references, he's accented the film with an inviting soundtrack selection and, of course, an effectively sinister score underlining several anxiety laden moments from Trent Reznor and Atticus Ross.
Guadagnino teams with Georgian DP Arseni Khachaturan (who lensed Dea Kulumbegashvili's outstanding 2020 feature Beginning), capturing the terror and pleasure of the Midwest's rural hinterlands, lovingly soaking up faded period details (and an era of yellowed paperbacks, with Tolkien, Joyce, and Jean M. Auel's novels featured). Like a dark fairy tale (think Little Red Riding Hood reconfigured as the wolf), Bones and All is also a sometimes touching story about the need for love and companionship, even for those who cannot escape an unacceptable monstrousness inside themselves.
Reviewed on September 2nd at the 2022 Venice Film Festival – In Competition. 130 Mins.
★★★½/☆☆☆☆☆