Earsatz: Hadzihalilovic Sinks Her Teeth In Ambiguous Menace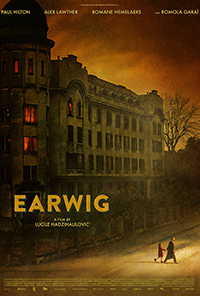 For her highly anticipated third feature, France's Lucile Hadzihalilovic resorts to adaptation with the enigmatic Earwig, based on the novella by Brian Catling, a nightmarish episode from the revered British sci-fi writer. In many ways, it's in keeping with her previous films, wherein children are being groomed for indeterminate but clearly insidious uses. But while it opens upon the imagery of a visually related appendage, this is a narrative clearly turned on its own head by the final frames, a story of fate obfuscated by a series of themes and motifs never clearly illuminated. As through a glass darkly, there are potentially supernatural elements lurking somewhere in the miasma of its anxious depths, but these are elements open to interpretation. In short, it's a chilly film which leaves a lot for its audiences to chew on—pun intended.
Set somewhere in Europe, mid-twentieth century, not too long after WWII, an unexceptional man named Albert (Paul Hilton) watches over a young girl named Mia (Romane Hemelaers). Strikingly, Mia's teeth have all been removed and she's outfitted with an ungainly apparatus which collects her saliva for the creation of ice teeth, which must be regularly inserted. As her mouth grows, the complicated contraption must be adjusted. It seems Mia has never seen the world outside of this dimly lit apartment, and Albert, hired as her handler, receives regular phone calls from a mysterious voice known as 'master.' One day, Albert receives a call to ready the girl for a journey, marking the end of his service. While bringing Mia into the city, they see a woman named Celeste (Romola Garai) observing them from afar. A previous interaction between Albert and Celeste, who is affiliated with her own handler, Lawrence (Alex Lawther), puts the four of them on a strange crash course.
The focal point of Earwig is always Hilton's nearly inscrutable Albert rather than his doomed ward, a young girl he's fairly contemptuous of, drugging her so he can wander off to a nearby clink and tie a few on. Catling's text provides more insight than Hadzihalilovic cares to, wherein the title is outfitted as an unseemly nickname he earned while engaged in military service. Instead, we are treated to shots of the actual insect, a pest with pincers more disturbing to look at then its capabilities of maiming.
Leaning into sensory experience, the visual and audio textures of Earwig feel like a free floating nightmare, accented English reducing our ability to pinpoint an exact time and place beyond mid-century Europe. DP Jonathan Ricquebourg (The Death of Louis XIV, 2016) fashions a beautiful but claustrophobic world of dimly lit interiors, the flat inhabited by Paul and Mia an unhappy prison. Her first stint to the outdoors, as Albert prepares for their mysterious 'journey,' finds her diving headfirst into a pond, seemingly without any instinct for self-preservation.
Hadzihalilovic chooses to highlight the character of Celeste, played by Romola Garai (whose 2020 feature Amulet has a similar vibe of menace and displacement), factoring more prominently in the narrative as a fateful figure haunting Albert. The more fetishistic attributes, such as Mia's transfixing ice-teeth situation, is open to interpretation, but clearly she's being fashioned into some sort of creation. Like the young girls of Innocence (2004) or the young boys of Evolution (2015), whatever her purpose, it's assuredly unpleasant.

The late introduction of a black cat, reminiscent of The Master and the Margarita, seems like devil's familiar, a feral creature sent to safeguard the girl against her handler's growing resentments. Various interactions heighten the sense of omnipresent paranoia, but it's a situation at a bar Albert ducks off to wherein his fate will be sealed. Garai's Celeste (outfitted with a facial scar shaped oddly like the titular insect) mirrors Mia in how she ends up in a laudanum laced trap for Alex Lawther's Laurence, taking her under his wing (but running an STD panel without her knowledge), clearly suggesting she's also been marked for something unpleasant. It's an unsettled universe of ticking clocks, bizarre accoutrements, and crushing desolation. A post-WWII shadow world, these are creatures marked for violent destruction, made all the more tantalizing because one can't possibility predict what miserable end for which they're destined.
Strangely reminiscent of something like Resnais' Last Year at Marienbad (1961), Hadzihalilovic has concocted an elegant arthouse exercise in terror, for as much as we think we know, we can't possibly fathom the depths of an abyss we're hurtling towards.
Reviewed on September 13th at the 2021 Toronto International Film Festival – Platform Competition. 114 Mins
★★★½/☆☆☆☆☆