Still Liam: Campbell Eclipsed by the Neeson Blueprint in Middling Thriller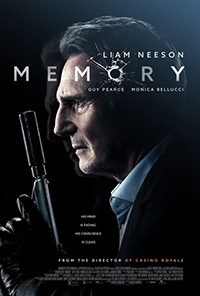 Now over a decade into the perennial routine of a yearly (sometimes quarterly) B-grade action film starring Liam Neeson, director Martin Campbell becomes the latest luminary overshadowed by his persona in Memory. Based on a 2003 Belgian thriller directed by Eric Van Looy (best known for his title The Loft, which he also remade himself in English), it would have seemed this was likely a more substantive venture than a recent slew of Neeson headliners—and it is—but scribe Dario Scardapane ("The Punisher"; "The Bridge") can't quite land the film's newly modified American/Mexican subtexts or its vast array of pertinent supporting characters without dipping into exploitation territory.
By now, one would expect even Neeson's most ardent fans to tire of this rinse-wash-repeat cycle he's on (these Charles Bronson working class anti-heroes desiring to get out of the game but circumstances require they dive into one last detrimental score), but here we are with another tailor made outfit designed specifically to satisfy only and exactly this sentiment.
Alex Lewis (Neeson), an assassin suffering from memory loss, is eager to retire, but the nefarious associates who employ him won't allow him to. Vincent Serra (Guy Pearce), a valiant FBI agent, crosses paths with Lewis due to a sex trafficking ring he's investigating. When Alex refuses to assassinate a teenage prostitute who was plucked from an immigration holding center and recently rescued from her abusive guardian by Vincent, the girl is killed anyway. With little time left before he loses all his mental faculties, Alex goes on a rampage in El Paso, killing contacts all the way to the top of the food chain, where a powerful woman named Davana Sealman (Monica Bellucci) has personal reasons for wanting the girl dead.
What seems most ironic about Memory is how it co-stars Guy Pearce, who headlined Nolan's Memento (2000), one of the most innovative (at the time) narratives regarding a mysterious figure suffering from memory issues while solving a case, and lends an aura of parody to this film. Pearce walks away as the least affected character in this narrative, if solely because he's hemmed up in white knight mode. At least in this English language version of the material, the focus on the two figures of justice, working from inside and outside of the law, is the least interesting element, especially considering the rudimentary background supplied for Neeson's character (grew up in the system, was abused, becomes assassin, won't kill children).
More interesting, perhaps because of her automatic screen presence, is Monica Bellucci as an imperious real estate mogul inextricably tied into the plot as she was the employer demanding the hit on the child prostitute. Had we skipped over a good forty-five minutes of genre familiarities and given Bellucci's Davana Sealman a third of the pie, Memory might have been worth remembering.
Shot by David Tattersall (The Green Mile; The Foreigner), the film is trying to showcase a lot with very little, and this tends to make the film feel a bit cheap, especially compared to some of Campbell's recent work. While exteriors were shot in El Paso, the bulk of the production lensed in Bulgaria, which might explain its externalized vibe.
While it's a far cry from Campbell's peak, where a pair of James Bond films and Zorro titles tend to define him, he's a director who has always worked best in the realm of gritty crime dramas with more limited parameters. If 2017's Jackie Chan drama was exceptionally underrated and 2021's The Protege was a surprisingly assured Maggie Q action flick, Memory is significantly compromised in the narrative department, by comparison. Fans of the Neeson formula might appreciate the downright impertinence of his cookie cutter output, but ultimately this is a film which, amusingly, won't likely be retained in the mental capacity referenced in the title.
★★/☆☆☆☆☆