In a Rich Man's World: Winterbottom Wobbles with Elementary Satire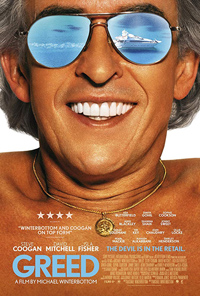 Perennial British filmmaker Michael Winterbottom, who has presented a number of different narratives across a variety of genres, turns to social satire with his latest effort, Greed, reuniting him with his muse, Steve Coogan (although the project was initially publicized as a vehicle for Sacha Baron Cohen, whose wife Isla Fisher is still in the cast). Coogan plays an aging fashion-mogul billionaire obviously modeled on an American counterpart, the insidious empire of Donald Trump (though Coogan's mannerism and prosthetic teeth are modeled after Philip Green and Richard Caring, respectively). Winterbottom (along with co-scribe Sean Gray), however, stay on the superficial outskirts of a situation which hardly seems provocative considering the current state of political and class issues facing both the US and the UK.
British fashion tycoon Sir Richard McCreadie (Coogan) is about to turn 60. Looking to distract the media after recent inquiries into his questionable business practices, he plans a birthday bash on Mykonos where only the most elite and privileged will attend. A journalist (David Mitchell) is in tow to pen his authorized biography as his daughter (Sophie Cookson) simultaneously films a reality television show and his son (Asa Butterfield) fantasizes about usurping his empire. Meanwhile, his rise to power is told through flashback to culminate with the tragedy awaiting in Greece.
Part of the problem with Greed's inability to be as cutting as it should be might rest in the hands of Coogan's central performance—while he's been the bright spot of several of Winterbottom's best titles, his performance is a highly mannered caricature of an elitist prig—in other words, this isn't too far off from the asshole Coogan plays in Winterbottom's beloved Trip series, and one wonders what kind of a monster Cohen might have pulled off in his stead. As McCreadie's non-plussed wife, Isla Fisher turns in a routinely 'fitting' performance, but again, this isn't too far off from a similar composite in Harmony Korine's The Beach Bum.
Another casting qualm is that of the excellent and entertaining Shirley Henderson (also a Winterbottom alum), here playing McCreadie's Irish harridan of a mother, spending a majority of her scenes in old age make-up, which is more distracting and befitting of a broader screwball comedy. Although the narrative subtexts of a grand bacchanalian set on Mykonos with a Babylonish (read 'civilization in the throes of decline') vibe, too many moments of blatant convenience rob this satire of its power, especially as Winterbottom preaches statistics over the closing credits—by the time we get to this, we need to be feeling the bile rise in our throats rather than questioning what Greed was supposed to make us feel as a slightly uncomfortable black comedy.
★★½/☆☆☆☆☆