A Spoonful of Violence: Hopkins' Unbalanced Sophomore Effort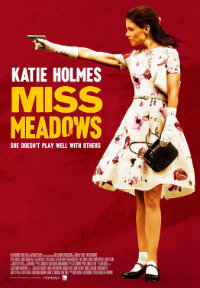 Actress turned screenwriter turned director Karen Leigh Hopkins unleashes her sophomore feature Miss Meadows after its premiere at this year's Tribeca Film Festival, where it was met with a middling response. After her first stint as director with 1998's indie film The Rose Sisters and a 2001 Penelope Ann Miller television film, A Woman's a Helluva Thing, her latest succeeds as her highest profile effort as director, though it's nowhere near the level of success that some of her screenwriting efforts have attained, like 1998's Stepmom or the majorly lambasted Because I Said So (2007). Tonally awkward and a bit too underwhelming to fully succeed as the black comedy cum violent thriller character study it is trying to be, Hopkins does manage to use the casting of Katie Holmes to her advantage (something not many directors have been able to do lately), and the film sometimes strikes a meditative plateau or two when its strangeness coagulates nicely with an ambient soundtrack.
Traipsing down a comfortable looking sidewalk in an unseemly, quaint neighborhood right out of Anywhere Pleasant, U.S. of A., poetry reading Miss Meadows (Katie Holmes) is accosted by a truck driver who courts her lasciviously from the street. After denying politely his advances, the man pulls a gun on her. Calmly, Miss Meadows extracts her own weapon and blows him away, continuing calmly on to her first day of work as a substitute teacher. She's replacing a woman who has just succumbed to cancer and Meadows seems quite committed to making sure the children have no more dramatic disruptions, hoping to stay on permanently. On the phone, her mother (Jean Smart) seems dismayed that her bright young daughter has settled for so little in life. While protecting a frog crossing a bridge one day, Miss Meadows meets a policeman (James Badge Dale) that's immediately drawn to her. Pity she ends up being a main suspect in a string of murders where dastardly men have been gunned down in various instances throughout the city.
For a recent point of comparison, Miss Meadows plays an awful lot like Geoffrey Fletcher's candy-coated teenage girl assassin film Violet & Daisy (2011), though isn't quite as difficult to sit through as that failed experiment. Set in a world that seems to be some morbidly grotesque alternate universe (its set design isn't advanced enough to hail this degraded world as dystopic), Miss Meadows seems like a 1950's housewife transplanted into Detroit reimagined as suburban sprawl.
Clacking all over the film in her little dance shoes, a missing cleat is reminiscent of Patty McCormack in The Bad Seed, though the narrative seems an awful lot like a Julie Andrews headlined remake of Death Wish. And there's enough promise to this incredibly over-the-top caricature to keep us engaged through an intriguing set-up. But it quickly becomes apparent that Meadows is only a one dimensional character, flaunted by extravagant details like those shoes, her accentuated way of speaking, the vibrantly colorful wildlife that follow her, and the incredibly grating pet-phrase "Toodleoo,"which she greets victims and love interests in similar enthusiastic throes.
As her mother, it's apparent that something's up with Jean Smart, though it's a twist that isn't pulled off with the silly fervor necessary to make it work, even as much as the flashback it leads to feels like an homage to Truffaut's The Bride Wore Black. Others are bland stereotypes, like Mary Kay Place's neighbor lady and the dopey cop played by James Badge Dale. Once we get to Callan Mulvey's subplot as neighborhood sex offender, Miss Meadows hits the snooze button and crashes with ungainly strides to a foregone conclusion.
★★½/☆☆☆☆☆