Goodbye South Central, Goodbye: Elderkin Grapples with Uneven Urban Soap Opera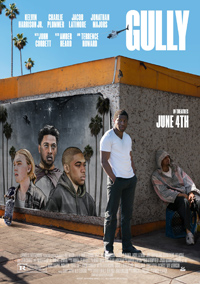 If Donald Goines had written YA literature, it might have looked something like Gully, a colloquialism meaning 'from the gutter.' Australian-American music video director Nabil Elderkin (who has directed a vast range of musical talents) populates this contemporary tale of urban angst and violence with a similarly impressive cast, scripted by "Empire" producer Marcus J. Guillory. But something important is missing from the miserabilism, shucking characters defined by significant trauma in every frame but failing to develop them beyond aimlessness predicated by bouts of extreme violence.
It's not exactly a 'nature vs. nurture' scenario, instead of a cynical 'that's just the way it is' statement. However, without the correct balance of grit and resilience, it's more along the lines of an exploitation melodrama than a proper portrait of modern South Central.
Three teenage friends, influenced by the significant trauma the experienced as children as well as the escapist pleasure of violent video games, decide to 'take the game to the streets,' wreaking havoc when such opportunities arise. Led by Calvin (Jacob Latimore), whose genius is hampered by pernicious mental health issues, he's joined by Nicky (Charlie Plummer) and Jesse (Kelvin Harrison Jr.), and each of their defining traumas are examined. Eventually, the consequences of their actions catch up with them.
One wishes there had been more snippets of neighborly camaraderie highlighting the vibrancy of these neighborhoods, a la "Black Jesus." There's a flash of it with Jonathan Majors' Greg, the connective tissue between many of the characters, though ultimately a placeholder for various dramatic interludes (and somewhat of a waste of Majors if you've seen The Last Black Man in San Francisco, "Lovecraft Country," etc.). But there's no clear juxtaposition between the hope and the horror of what Calvin and co. get up to, which begs to be seen as a cross section of the droogs in A Clockwork Orange and something from Bret Easton Ellis. However, the handful of asides in video game violence play like a treatise we would have seen on violence and desensitization coming out of the fumes of 90s Gen-X harangues melded with the infamy of "Grand Theft Auto." As shot by Adrian Goldman (Sin Nombre; Dark River), it's actually a beautiful portrait of quiet Los Angeles neighborhoods we don't see too often on film.
Compared to the South Central classics of the early 90s, like John Singleton's Boyz n the Hood or (1991) or The Hughes Bros.' Menace II Society (1993), there's a lack of finesse, evidenced in characterizations which seem oddly out of place, like Charlie Plummer and Amber Heard (who, try as she might, can't portray the sloppiness of Joyce).
The most egregious element might be Terrence Howard as resident unhoused scion/patron saint of the block Mr. Christmas, whose spouting, along with Latimore, suggest a more curiously unhinged portrait of dystopian possibilities. If Latimore is rightfully uncomfortable as the increasingly violent Calvin, his cohorts are completely lacking in such devious inhibitions, leaving Kelvin Harrison Jr. as the overtly sincere note of grace as a mute abuse survivor (though a bombshell twist about his living situation is where the real lurid interest of the film lies, introducing it without defining how this situation played out for the character, and neglecting to mention why his best friends never had any interest in pressing him about his life). John Corbett and DeRay Davis are forced to play characters whose tragedies are painted in cliched tropes, while Erika Peeples and Robin Givens, both a joy to see, are mere accents. It's The Wild One meets The Purge, and no one's the better for it.
★★/☆☆☆☆☆