Fire Walk with Me: Laxe Anchors an Arsonist in Meditative Portrait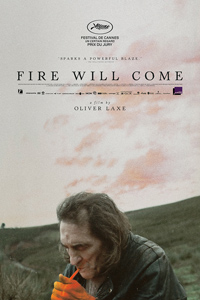 If fire is the regenerative metaphor of the phoenix, the same cannot be said for the redemption of the arsonist, at least not as depicted in the simmering neorealist slanted drama Fire Will Come from Oliver Laxe (in Spanish, the original title Lo que Arde literally translates to What It Burns, a much more poetic metaphor compared to the English language title which literally articulates the impending raze).
Playing like a hybrid character study/docudrama, Laxe enlists the local populace of Galicia in northwest Spain, each glancing across the screen defined by their occupations in an environment which seems to be shifting towards tourism and revitalization. But forgiveness and good will seem hard to come by, especially for those whose actions have erred against the community.

Released from prison after serving two years of a three-year sentence for setting fire to a mountainside, Amador (Amador Arias) returns to his small village in the province of Lugo, completely destitute. Retreating to the home of his aged mother Benedicta (Benedicta Sanchez), he helps her care for her livestock while she tries in vain to secure him work with Inazio (Inazio Abrao), who is restoring houses for potential tourist attractions. His neighbors seem hardly interested in forgiving him, while new inhabitants are quickly informed of his crime, including veterinarian Elena (Elena Fernandez), who develops a tenuous friendship with Amador over an ailing cow. When another fire consumes the area, the villagers are sure Amador is again the cause.
Shot by Laxe's Mimosas (2016) DP, Mauro Herce, Fire Will Come is a beautifully shot bit of hypnotic imagery, opening in the misty burnout of a wilderness ravaged by fire, followed by a flurry of hands paging through documents, voices incredulous about the release of Amador before finishing his prison sentence. Clemency, it seems, is not extended by most of the local villagers, who either tease or outright demean him.
Left alone with his aged mother Benedicta, who hardly bats on eye upon her son's return home, there's a shared empathy and sense of codependence between mother and son, played by a hangdog Amador Arias and the almost monastic Benedicta Sanchez. Theirs is a situation and a relationship which bears resemblance to early Carlos Reygadas, particularly 2002's Japon (sans, of course, the bluntly realized sexuality). Likewise, Laxe's latest feels reminiscent of the German construction workers vs. the Bulgarian locals in Valeska Grisebach's Western (2017), a film which bears a narrative a bit less nebulous. We're left to parse through their interactions for some sort of meaning, and Amador's speech about how eucalyptus roots, intersecting for kilometers beneath the earth's surface, strangle other vegetation. Such could be Amador's initial excuse for starting the fire which found him imprisoned, a way to make the area uninhabitable, potentially marked by tragedy which would stave off an onslaught of tourists Inazio is refurbishing rustic resorts for. Their intersecting presence, like those metaphorical roots, would diminish the native flora and fauna.
The terror inspired by the devastating consequences of pyromania aren't quite what's at hand here (at least as compared to something like the pseudo thriller Pyromaniac, the 2016 title from Norway's Erik Skjoldbjaerg), and Amador's motives are never confirmed, nor offering a solution for who sets the wilderness ablaze for a second time in the film's closing act. Perhaps it doesn't matter, but the ripple effects for Amador and his mother are bound to be irrevocable.
Laxe ends the scenario abruptly, as if to confirm this sentiment, but some may find it more jarringly dissolute, at least as far as the communal finger pointing, than a cliffhanger. As Leonard Cohen's "Suzanne" caresses us through the end credits, one wonders if another original Cohen track, "Hey, That's No Way to Say Goodbye" might have been more appropriate.
★★★½/☆☆☆☆☆