Let Him Go [Video Review]
Gone, Baby, Gone: Bezucha Returns with Poignant Crime Drama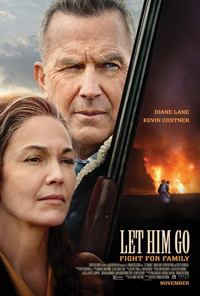 For his first film in nearly a decade, director Thomas Bezucha returns with a spirited character-driven crime melodrama in Let Him Go, an adaptation of the 2013 novel by Larry Watson. A period piece set across the desolate rural plateaus of Montana and North Dakota in the early 1950s, it's a departure from Bezucha's previous efforts, wherein a successful indie debut segued into a pair of glossy Hollywood feel-good endeavors.
Not so much gritty as old-fashioned in the care taken to portray the aching grief which drives a retired married couple to hatch a desperate kidnapping of their grandson, a descent into anxiety and violence allows comparison to both the revisionist Westerns of Anthony Mann and a hybrid 'women's picture' of the studio era. A deliciously sinister battles of wills between Diane Lane and Lesley Manville, the spryest pair of grandmothers ever committed to celluloid, would translate into award campaigning in a just world.
George (Kevin Costner) and Margaret Blackledge (Diane Lane) lead a peaceable existence in rural Montana in the early 1950s. George is a retired sheriff and Martha trains horses with their adult son James (Ryan Bruce) on their land, where they also live with his wife Lorna (Kayli Carter) and their newborn son. Tragedy suddenly strikes when James is killed. Several years pass and Lorna remarries the violent Donnie Weboy (Will Brattain), whom Margaret sees abusing mother and child on the street. Shortly after, attempting to visit Lorna, Margaret finds they have packed up and left without saying a word, a neighbor confirming they took off to North Dakota to live with Donnie's family. Despite George's reservations, Margaret insists they go off in search of them and forcibly take their grandson back to Montana. An increasingly fraught search leads them to the sinister Bill Weboy (Jeffrey Donovan), the most polished member of the notorious Weboy clan. He provides them with the painstaking directions needed to access the family homestead where Lorna now lives, under the watchful gaze of the domineering Blanche Weboy (Lesley Manville), who has no intention of allowing Lorna or her son to leave.

The chemistry between Lane and Costner provides a comforting backbone to Let Him Go. Not surprisingly, Costner is in his usual mode of spare emoting. But what was once a burden to some of his characterizations and on-screen romances of yesteryear is a boon to him here, and Bezucha effortlessly captures a complex relationship guided more by nonverbal cues between the two leads than dialogue. By default, there's arguably a queer sensibility floating in these subtexts, powerful women of the range who defy the law of the land and their male kin to wage what amounts to as war over property, agendas lodged in the nexus of a wary grey zone.
Lane's casting feels sublime as Margaret, once the unpredictable muse of early Coppola and Walter Hill features who has since become a welcome vintage across a variety of platforms, though still formidably underrated. A tangent regarding Booboo Stewart's Peter, an Indigenous man who was ripped from his family by the government for some of the usual forced Americanized assimilation, is their lone friendly face on the journey, his plight an echo of the experience Margaret wishes to avoid for her grandson, a child who will be divorced from his heritage and his people. Although this juxtaposition of white vs. Indigenous experiences is perhaps the largest pill to swallow, its good will is in attempting to universalize the toxicity of these practices.
The same can be said regarding a bit showcased in flashback, meant to girds Margaret's need to say goodbye. A Steinbeckian death of a horse, of course, is utilized for this same poignancy in the finale, and despite its obviousness, is both touching and eloquent. But by far the zestiest element of Let Him Go is Lesley Manville as a golden locked harridan, like a malicious resurrection of Barbra Stanwyck's Jessica Drummond from Forty Guns (1957). Cruel and manipulative, she's an iron-willed matriarch whose only desire is to lord over her brood of male children with supreme omnipotence, and Bezucha's film doesn't flinch from allowing her some nastiness.
Let Him Go is a far cry from Bezucha's debut, the celebrated queer indie Big Eden (2000), and even further removed from either the beloved mainstream Christmas dramedy The Family Stone (2005), wherein Bezucha also allowed a showcase for several notable actresses, and his fluffy family comedy Monte Carlo (2011). Lensed by Guy Godfree (Maudie, 2016), it plays like a welcome throwback to narrative cinema which prized careful characterization to humanize and compel.
★★★½/☆☆☆☆☆