Idle Hands: Sorrentino's Sprawling Saga a Wayward Bildungsroman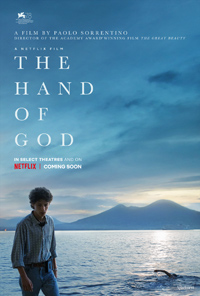 There's almost as much to admire as there is to dismiss in The Hand of God, Paolo Sorrentino's most capricious film to date which swings so boldly between moods and tones it feels like a case of borderline personality disorder. Heightened autobiographical details may abound in this ode to fractured youth and cinefilia, but it revels in the realm of sentimental nostalgia, paying homage to early 1980s Naples.
Parsing through its various delights, Sorrentino once again borrows heavily from a Golden Age of Italian masters, and his latest often feels like a cobbling together of Fellini and Bellocchio. A lovably dysfunctional familial saga eventually winnows into a coming-of-age narrative, albeit one which somehow forgot to make the lynchpin intriguing enough to justify what amounts to another garden variety sexual awakening of a young, heterosexual male. Despite various grandiose moments, filled with moments of strange beauty and delightful asides, Sorrentino creates a narrative less than the sum of its parts.
1980s Naples is humming with possibility for the Schisa family, led by Saverio (Toni Servillo) and his wife Maria (Teresa Saponangelo). They have two sons, the eldest Marchino (Marlon Joubert) desiring to cash in on his good looks to be an actor, and the yet-to-be-determined Fabietto (Filippo Scotti). Of course, there's dysfunction in their extended family, with Maria's sister Patrizia (Luisa Ranieri) suffering from mental health issues and an abusive husband, while Saverio's own siblings have their own significant problems. In their greater extended family there's talk of low-grade criminal activities, but Saverio and Maria have wholesome plans for a two-bedroom condo in the mountains they aim to retire in. Uniting them all is the possibility of famed Argentinian football player Sergio Maradona becoming a member of the Naples team, a rumor the Schisa family is fanatical about. But just when all seems to be going well, tragedy strikes, and awakens the desire of Fabietto to decide his future course as an aspiring filmmaker.

Sorrentino has often courted comparison to Fellini, with 2013's The Great Beauty (read review) playfully imbued with the energy of an 8½ (1963) or La Dolce Vita (1960). In The Hand of God, it's rather novel first hour is highly reminiscent of Fellini's Amarcord (1973), the love letter to his own childhood, filled with kooky characters and memorable oddballs. The same archetypes are a bit less seamless here, and sometimes feel incongruous with the film's eventually somnolent tone. At one point there are extravagant pranks being played, and some deliriously entertaining reactions (such as when Maria pretends to be Zefferelli's assistant calling their narcissistic neighbor Graziella to offer her a role). Next, there are bizarre perversities and normalized misogyny which hardly play like statements on how things were in a certain time or place.
The introductory character, Patrizia, played by the captivating Luisa Ranieri, is a 'hysterical woman,' having a vision of San Gennaro and the Little Monk whilst wearing a busty, see-through dress. The film implies she was turning tricks, but even her own fantasy entails being groped without permission. Toni Servillo defines her condition as a woman who has "gone over the edge" due to her inability to give birth. Sorrentino doesn't care to expound, instead utilizing her only as the titillating muse inspiring her nephew Fabietto to be a filmmaker. And then The Hand of God takes a hard left into darkness with a family tragedy, which leads Fabietto into an existential conversation with a filmmaker named Antonio Capuano (Ciro Capano), who shrieks wisdom about having something to say to make it as a director before dipping unceremoniously into the early morning sea like a merman.
In the backdrop are a variety of notable Naples happenings, the most important being Diego Maradona leaving Barcelona for Naples, and leading many (such as Renato Carpentieri) to interpret the football player as a messenger of God. Fellini himself is casting a film in which Marchino auditions for, only to be told he has a conventional face (someone should have suggested he try out for Zeffirelli picture instead). But the most memorable aspects of The Hand of God are lodged in the sprawling supporting characters.
Sorrentino regular Toni Servillo has little to do here, but Teresa Saponangelo, playing his wife, is the film's most interesting character. She's joined by Betty Pedrazzi (Behind Convent Walls, 1978), a geriatric consigned to being an unexpected seductress, reminiscent of Miss Havisham as Mrs. Robinson. And then there's Dora Romano as the ornery Signora Gentile (who also gets a shockingly violent denouement in the narrative) and Alessandro Bressanello as Aldo, the ex-cop with the Vocoder dating Savero's sister, who provides ample comedy. Unfortunately, they all add up to endless pearls of distraction. And despite some beautiful cinematography from Daria D'Antonio, promoted from Camera B operator on The Great Beauty, Sorrentino's peaks and valleys end on an ambivalent plateau with a protagonist about as monotonous as the central figure in Kechiche's Mektoub films.
Reviewed on September 3rd at the 2021 Venice Film Festival – Main Competition. 150 Mins
★★½/☆☆☆☆☆