Forget Paris: Lane is a Fine Vintage from the Coppola Vineyards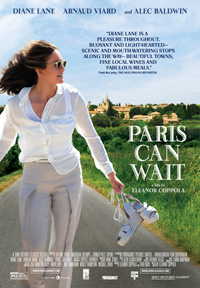 At the age of eighty, Eleanor Coppola makes her narrative feature debut with the slight but seductive Paris Can Wait, a travelogue tinged with episodic bouts of aristocratic food pornography of the French countryside. As her surname confirms, Coppola belongs to a one of cinema's most revered families as the mother of Sofia and Roman, grandmother of Gia and the wife of famed auteur Francis Ford Coppola (she won a Primetime Emmy for a 1991 documentary on the difficulties he experienced during the making of Apocalypse Now), and owes much of the success of her film to a persuasive lead performance from Diane Lane (who happened to star in four items from her husband's filmography).
Aficionados of fine foods and lazy afternoons should gravitate towards this meandering ditty about the bored wife of a movie producer who reluctantly falls for the wiles of one of his French colleagues during a road trip from Cannes to Paris extended by frequent pit stops for food, sightseeing, and mild flirtation.
Suffering from a mild ear infection, Anne (Lane) is forced to meet her movie producer husband Michael (Alec Baldwin) in Paris by car, foregoing a last minute pit stop in Hungary. Leaving behind the Cannes Film Festival (where the leering face of Ingrid Bergman marks the calendar as the 2015 edition), Anne is invited to join Michael's business associate Jacques (Arnaud Viard) in his vintage Peugeot who will drive her the seven hours to Paris. But Michael has a tendency to be stereotypically French in his obvious attempts at flirtation with Anne, who moves from being mildly amused to annoyed as her driver insistently stops every hour for elaborate meals, and eventually, overnight in a boutique hotel.
If there's a logical point of comparison for Paris Can Wait, it would be Lane's own performance in the high profile adaptation of 2004's Under the Tuscan Sun, a film which saw her play another lovelorn woman who finds surprise romance and connection in a foreign country. Lovers of such familiarly romantic bon bons such as that may find Paris a bit harder to appreciate as escapism, apparently loosely based as it is on one of Coppola's experiences with a colleague of her husband's.
Lane's marked irritation for the constant delays brought on by her increasingly amorous chauffeur feels realistic enough, even if the eventual crossover into potential physicality does not. As her foodie seducer, Arnaud Viard has a crusty, flyaway likability, which allows their meandering a quiet charm purely for the sake of enjoying life's simpler (but in their case, expensive) gastronomic pleasures. At one point, he allows for her to visit a fabric museum on their journey, one of Anne's few defining interests, while a forced picnic due to car trouble is remedied with aplomb by Anne own self-reliance.
DP Crystel Fournier captures the picturesque beauty of the Gallic countryside, while Lane languishes beautifully front and center. Food wise, the film is a fragile dessert doomed to collapse upon prolonged exposure to the elements . But the initial energetic delight of Paris Can Wait is like a splash of Pinot Grigio on an empty stomach, buzz inducing until you're led to distraction by your own gnawing hunger for something more substantial.
★★★/☆☆☆☆☆