All the Rage: Williams Returns with a (Familiar) Vengeance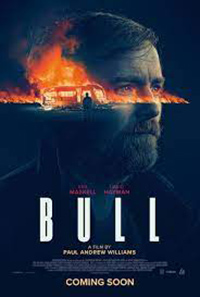 After a decade working in television, British director Paul Andrew Williams finally returns to narrative filmmaking with his fifth feature, Bull. Despite a title recently utilized elsewhere (such as Annie Silverstein's 2019 debut starring Rob Morgan), it's a nasty little slice of revenge cinema in keeping with themes from Williams' early days as a filmmaker in the late 2000s.
A perversely violent performance from lead Neil Maskell elevates what initially seems like a gritty but by-the-numbers escapade in the vein of good ole' Richard Stark, and Williams doesn't decide to go full title bonkers until the denouement. For those who can appreciate the difficulty in achieving the intensity on display here, there's much to enjoy with this abrasive revenge thriller. Despite Williams approaching a scenario in ways initially seeming old hat, there's a craft to this level of masculine severity to which he, once again, brings his own particular spin.
A decade ago, Bull (Maskell) was a gang enforcer who found himself on the wrong side of the tracks when his boss and father-in-law Norm (David Hayman) decided to have him brutally murdered. Norm's heroin addict daughter Gemma (Lois Brabin-Platt) refused to allow Bull to have access to their son Adrian after their split, which instigated his demise. Left for dead, Bull suddenly returns, eager to locate his son, now a young adult. In his search, he brutally begins to murder all of Norm's cohorts who assisted in assaulting him. Eventually, Bull makes his way to the top of the food chain.
In many ways, Bull feels akin to Williams' 2006 debut London to Brighton, with a dash of the gonzo weirdness of 2008's The Cottage. A decade or so ago, Williams felt like part of a cluster of exciting new genre oriented Brits that included Christopher Smith, Tom Shankland, and Ben Wheatley, with only the latter really gaining and sustaining the kind of international acclaim all four of those names deserved. Williams utilizes Maskell (who starred in Wheatley's own 2011 breakthrough, Kill List), and time has only made the actor more discomfiting in his ability to unnerve. Williams starts out with a moment of significant violence, and the appendage chopping only goes on from there. But Maskell becomes more and more unhinged as the slight narrative winds to the finish. By the time we get to an agonizing tilt-a-whirl murder, it's apparent all hell's going to break loose. Literally, it kinda does.
While there's a strong sense of ensemble here, the other real standout is co-star David Hayman, a celebrated Scottish character actor who directed a trio of well received films in the 1990s (among them a pulpy Yorkshire Ripper inspired mad housewife thriller top-lined by Helen Mirren called The Hawk, 1993).
Vanessa Whyte and Ben Chads are credited as cinematographers, and there's a fantastic sense of juxtaposition between the drab interiors of these unhappy criminals versus the neon lights of a metaphorical theme park. Also of note is the significantly moody score from Raffertie, who recently served as composer on I May Destroy You. Overall, Bull might feel slight in the overall scheme of recent cinematic offerings (after all, Williams began a career before the onslaught of Liam Neeson vehicles would drive these kind of tropes into the ground), but its a glaring reminder of an intensely talented filmmaker and hopefully serves as a renaissance for his cinematic offerings.
★★★½/☆☆☆☆☆