Music Makes the People Come Together: Weitz Hits False Notes in Hostage Drama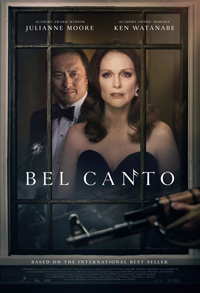 If ever an aria could conjure the essence of camp, it would sound something like what's on hand with Bel Canto, the latest film from Paul Weitz, adapting from Ann Patchett's 2001 novel, a fictionalization of the 1996 Japanese embassy hostage crisis in Lima, Peru. Reuniting Weitz with his Being Flynn (review) cast mate Julianne Moore, who stars as an unlikely opera star at the center of this melodrama, a highly eccentric conglomeration of notable international actors congeal into a pool of derisive flourishes despite its narrative's B-thriller potential. Like a 1950s studio melodrama, star-crossed lovers and formidable political opposition is overcome through the use of song in this hokey hustle.
Patchett's novel was inspired by the 1996 Peruvian hostage crisis, wherein rebel group Tupac Amaru raided the Japanese embassy in Lima in hopes to bring the Japanese president to task for certain human rights violations. While the year remains the same, names and places aren't exact in this rendition, which focuses on an intimate performance from opera sensation Roxane Cross (Moore). While the Japanese presidents declines to attend the South American event, in his stead is Tokyo industrialist Hosokawa (Ken Watanabe), a man obsessed with the singer. In fact, it was his perseverance which saw the singer book the gig in the first place. Shortly after the show begins, the audience is accosted by the rebels.
As intriguing as it is to see Moore lip-sync to the stylings of Renee Fleming, the result is a rather uncomfortable and awkward exercise to behold. She gets several extended sequences requiring her to languish through the music, wherein Moore also tries to emote equal intensity through facial expression, which lends itself to being a bit over-the-top. And since the accomplished performer soaks up most of the brunt of both our and the narrative's attention, the notable members of the supporting are hung out to dry. Among them are Christopher Lambert and Elsa Zylberstein, strangely playing a high profile diplomatic power couple as seen in Claude Lelouch's 2015 feature Un+Une (here Lambert gets a bit more shine than Zylberstein).
On the Japanese side is Ken Watanabe as the star struck opera lover who gets to realize his greatest fantasy, and Ryo Kase as his emotive interpreter (both actors appeared in 2006's Letters from Iwo Jima). Tenoch Huerta and Noe Hernandez (both who also appeared in Fukunaga's 2009 Sin Nombre) are on hand as part of the Peruvian rebels while German Sebastian Koch is the Swiss hostage negotiator. Guatemalan actress Maria Mercedes Coroy (Ixcanul, 2015) gets her own tangent as an indecisive member of the rebels.
Technically speaking, Bel Canto plays like a chamber drama, a bunch of disparate foreign nationals doing what they can with their screen time. Had Weitz taken Patchett's novel into something like Shanghai Express (1932) territory instead of a Stockholm Syndrome sonnet at least one could have argued for the salvaging of subversive elements. Instead, Moore is the dissonant factor, the element which will drive an audience to the film as well as distract from the narrative. Her presence is not unlike Isabelle Huppert in Brillante Mendoza's 2012 hostage drama Captive, in which the French star is the odd man out as a missionary in the southern Philippines.
Oddly assembled and never quite convincing either as a human interest drama, a love story, or a thriller, Bel Canto tries to be a lamentation when it might have been better served to scream.
★★/☆☆☆☆☆