It Could Happen To You: Nagy Recuperates the Resiliency of Women in Sophisticated Melodrama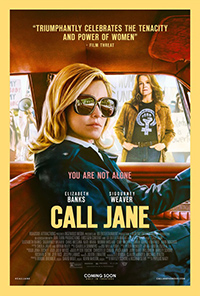 Camille Paglia, with her signature dramatic panache, might be among those who phrased it best concerning not just the right but the necessity of women's reproductive rights, "it is our right and even obligation as rational human beings to defy nature's fascism." Arriving in the midst of a myriad of abortion rights regressions in the US, making it feel more startlingly relevant than ever, is Call Jane, the directorial debut of Academy Award nominated scribe Phyllis Nagy (Carol, 2015), which takes a steely magnifying glass to the clandestine group of feminists known as The Jane Collective (or The Janes), an underground group of Chicago women who assisted in abortion escorting.
Nagy, who seems clearly tethered to the juxtaposition of feminine repression and release in period garb, commands a no-nonsense crew of women defying the misogyny of the system in a straight-laced narrative centering on one woman's call to action based on her own experiences. An expertly cast endeavor, it's a timely reminder of how far we are from complacency as concerns reproductive rights in a country besotted by ignorance, systemic racism, religious fanaticism and political corruption.
In the autumn of 1968, Chicago housewife Joy (Elizabeth Banks) learns her current pregnancy is causing cardiomyopathy. In other words, the pregnancy has a significant chance of causing heart failure. Her husband Will (Chris Messina) is a by-the-books criminal lawyer, but agrees with his wife to petition the medical board to allow a therapeutic termination of the pregnancy since abortion is illegal. The board swiftly denies her claim, citing roughly half of pregnant women survive under these circumstances, and the potential child is more important than the mother's well-being. In her search to obtain an illegal abortion, Joy stumbles upon The Jane Collective, run by Virginia (Sigourney Weaver). For the staggering fee of $600.00, Joy is able to obtain a safe abortion through their tenuous alliance with Dr. Dean (Cory Michael Smith), who commands the prices. Quickly, Joy finds herself roped into assisting Virginia, and as her awareness of the need for women to obtain safe, affordable abortions grows, she takes it upon herself to learn the procedure.
As Joy, Banks may initially seem the odd-man-out in the cast as a housewife more tightly wound than the curls of her honey blonde tresses which introduce her in the film's intriguing opening moments (the title credit recalls feminist-adjacent horror films from the period, like Rosemary's Baby or maybe even It's Alive). Her performance as Joy, however, is a well-rounded, unfussy portrait of a woman awakened to her own empathy, seeing immediately the need for some warmth and kindness even within the trusty machine run by the collective.
At times, Banks recalls the presence of Hitchcock's heroines from the decade, thanks in part to costume designer Julie Weiss (who happened to work on the 2012 Hitchcock biopic starring Sir Anthony Hopkins). As her wry mentor, Virginia, Sigourney Weaver is a consistent gust of fresh air. As the founder of the collective, she's tenacious and straight to the point, often with a glint of humor to counter the unfortunate reality facing her peers. Her most surprising moment is a coquettish round of a vodka-soaked strip game while she tries to browbeat Dr. Dean into quid-pro-quo freebies for the women who can't afford his prices. It's a bright moment of reprieve and a playfully flirtatious moment for Weaver, instantly believable and, at times aggressively, motivational.
The script from Haley Schore and Roshan Sethi briefly, but at least wisely, delves into racial intersections, with Wunmi Mosaku's Gwen, getting at least one shining moment to point out the collective's ease in dismissing women of color due to their inability to pay the steep fees charged by their resident 'doctor.' However, there's scant time for characterization amongst others in the collective (even Aida Turturro as Sister Mike).
Branching out amongst Joy's family, most of the remaining cast falls into familiar territory, such as her sympathetic but helpless-around-the-kitchen husband played by Chris Messina and her pill-popping friend next door, the widowed Kate Mara. John Magaro, however, pops up in one intriguingly staged sequence as an undercover cop with a special request.
On the heels of 2020's Never Rarely Sometimes Always from Eliza Hittman and Audrey Diwan's Golden Lion Winner Happening (2021), it's clear these stories, written and directed by women, are more important than ever, especially as a stark reminder of the sacrifices made by previous generations only to see women's reproductive rights, reduced, once more, to depending upon the kindness (or greed) of strangers. Perhaps wisely, Nagy makes the finale of 1973's Roe v. Wade a mere blip in the narrative, an endpoint for the collective, but clearly a piece of porous concrete eroded by the endless lashes of humankind's fascism.
Reviewed on January 21st (virtually) at the 2022 Sundance Film Festival – Premieres section. 121 mins.
★★★½/☆☆☆☆☆