A Great White Hype: Gray Explores the Farce of the American Dream in Coming of Age Portrait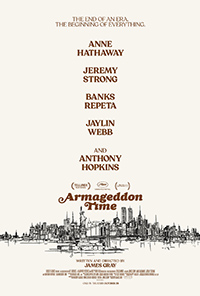 Where are we going? Where have we been? These might be the rhetorical questions knocking about like ghosts dragging chains within James Gray's latest, Armageddon Time. A departure from Gray's usual sprawling scope, this highly contained and specific coming of age story is a semi-autobiographical snapshot of the director's own childhood growing up in 1980s Queens. More importantly, it's a reminder of the swinging pendulum of progress in the US political landscape, where every step forward demands we move several steps back. As told through the perspective of a young Jewish boy's awakening to blatant and systemic racism, Gray tries to steer clear of white knighting to recreate a tender but troubling account enrobed in the already broken public education system.
In the background, the country was hurtling into the age of excess on the backs of the working class and the marginalized. Less poignant than it is a sobering reminder of never forgetting the past, its limited scope doesn't pretend to have any answers and feels more a starting point in conversation for those privileged enough to relate to this point of view.
In 1980 Queens, sixth grader Paul Graff (Banks Repeta) courts his teacher's (Andrew Polk) ire on the first day of class. So does Johnny Davis (Jaylin Webb), a Black cohort who is repeating the sixth grade. The teacher's exaggerated vitriol towards Johnny is dramatically apparent, which Paul notices. The two outsiders create a fast bond in their rebellion against their not-so-casually racist teacher. An upcoming class trip to the Guggenheim, which is too costly for Johnny to attend since he lives alone with his sickly grandmother, is offered to be paid for by Paul, who says his family is rich. His mother's (Anne Hathaway) standing as the PTA president also lends him a sense of confidence in believing he's technically untouchable. However, Paul's parents are far from wealthy, and the only reason he's attending public school is because they cannot afford to send both him and his older brother to a private institution.
Homelife is amiable enough, a loving environment established between his mother and father (Jeremy Strong), a plumber who tends to go overboard if you make him really angry. The glue holding the family together is their grandfather, Aaron (Anthony Hopkins), who treats Paul as his favorite. However, Grandpa might not have much more time to spend with his family. Meanwhile, at school, the boys' shenanigans land them in hot water, to the extent Paul is moved to private school as a way to correct his behavior. Since Johnny has no support system, he's moved to remedial classes and promptly stops going to school, hiding out in Paul's playtime shack in the backyard whenever social services come looking for him. Paul begins to change in his new environment, exposed to the more vitriolic racism exhibited by his new white peers. At his new school, where the Trump family has roots, US attorney Maryanne Trump (Jessica Chastain) shows up to make one of those nonsensical speeches about being at the top by working hard enough. Add to this a world about to be thrown into the clutches of Ronald Reagan, where the war on drugs and negative rhetoric about "hand-outs" somehow didn't correlate for those cheating a system to gain "a real seat at the table." The title is born from Reagan's fear mongering about a world heading toward Armageddon.
While Armageddon Time never reaches the pinnacle of miserabilism the set-up suggests, it is an upsetting and draining experience seeing as it purposely aims to showcase the similarities to repeated sentiments allowed not only spotlight but celebration in 2016—-although really, these are things, thoughts, systems, and symptoms which never really went away because they've never really been dealt with. That the education system provides the parameters for this history lesson provided by Gray adds to the potency.
Gray's most personal and cathartic film also has the decency to show how more often than not, from a white, privileged perspective, almost no one ever has the capability of doing the right thing. At least not the first time around. It's a painful lesson, and one which causes regression in the opposite direction rather than claiming responsibility. Not everyone has a figure like Paul's grandfather, presented with playful articulation by a stellar Anthony Hopkins.
Anne Hathaway seems a bit young to be Hopkins' daughter, dusting off the housewife composite she played in Todd Haynes' Dark Waters (2019), though both she and Jeremy Strong are strongly sympathetic characters battling their own shortcomings. But the heart of the film is really the two child performances from Webb and Repeta, who are neither precocious nor pretentious, just kids having to deal with harsh realities in a world which will support one of them and systematically tear down the other. We may have seen many memoir films and an endless parade of scrubbed coming of age narratives, but Armageddon Time has the rare quality of feeling honest about how difficult it is to let go of privilege.
Reviewed on May 19th at the 2022 Cannes Film Festival – Main Competition. 115 Mins
★★★½/☆☆☆☆☆