The Lying Nun: Garai Sways Scary with Stimulating Debut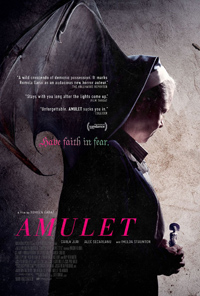 Indeed, the female of the species is more deadly than the male even in the realm of the otherworldly at least according to actress turned director Romola Garai's insidious directorial debut, Amulet. Unassuming in its stealthy subtexts, Garai crafts a world which seems to turn on a protofeminist genre perspective in a narrative bolstered by its international cast.
Although more of a psychological exercise, an entry in a growing subgenre which is more a cinema of dread than it is horrific or thrilling, Garai's brooding narrative leaps headfirst into the realm of the fantastic in ways which aren't always graceful but will leave you grappling with its messages long after the credits roll.
Tomaz (Alec Secareanu) is a refugee from an unnamed war-torn region, living in crowded tenement-style housing in London. Plagued by nightmares of his military service at a border outpost which allowed for him to build a quick intimacy with Miriam (Angeliki Papoulia), a woman he had admired from afar now trying to cross the border, Alec awakens each morning to untie his hands, which he's taped together himself, and set off to work in construction. When a fire burns down his housing, he's injured in the evacuation and wakes up beneath the calm gaze of Sister Claire (Imelda Staunton).
Gently asking him if he would prefer to return to his native country, Alec is adamant about staying in England, and so Sister Claire assists him with finding a new job and housing situation in which he will assist Magda (Carla Juri), a young, beleaguered woman who has been taking care of her sick, invalid mother all alone in a crumbling house. While Alec doesn't immediately feel welcome, he develops an affection for Magda, whose considerable secrets lead him to a precipice from which he may never return.

Garai, best known for her work with a number of international auteurs, from headlining Ozon's English language debut Angel (2007) to working with Woody Allen (2006's Scoop), and beyond, finds herself deftly navigating the possibilities of genre with a surprisingly thought provoking directorial debut. Sans a lone sequence in which a toothy albino bat is found clogging a toilet, Amulet is absent lavish gestures, dependent almost solely upon building dread and bewilderment until its third act (which, for better or worse, cements the concepts of the script's heavy hints about a feminine supernatural power).
Secareanu, heretofore known for his standout performance in Francis Lee's God's Own Country (2017) is appropriately sympathetic in a narrative which is reminiscent of a variety of genre narratives, somewhere on the spectrum between menacing 1970s offerings, between the highs of Robin Hardy's The Wicker Man (1973) and the lows of Don Henderson's The Touch of Satan (1971).
Surrounding him are a stellar trio of femme fatales, each with their own significant part to play in his demise. Greek Weird Wave alum Angeliki Papoulia (Dogtooth; ALPS; The Lobster) gets the least amount of screen time, her trauma unfolding in flashback but in confounding ways one returns to when the film ends—perhaps her role as a pawn is fate, perhaps coincidence.
Either way connotes troubling messages about both the deity controlling the narrative and Tomaz's troubled past beyond his experiences with Miriam. Carla Juri, standout from Wetlands and Morris from America, is well cast as the lure, a supposed victim of circumstance, while celebrated English actress Imelda Staunton is obviously having a lot of fun with a performance which brings some over-the-top energy.
Garai fills her film with feminist touches which allows for deeper readings, including a sly glance to Tomaz reading a Hannah Arendt text, which looks to be her 1970 essay On Violence (at least based on the cover art print), which, among many points, suggests violence is the nexus between those in power and those who desire it, which fits with the war ravaged background framing the narrative as well as the clearly gendered dynamics dictating what happens to Tomaz.
★★★½/☆☆☆☆☆