Our Ties (Les Miens) | 2022 Venice Film Festival Review
Fit to Be Tied: Zem Scuffles with Family Matters in Slight Drama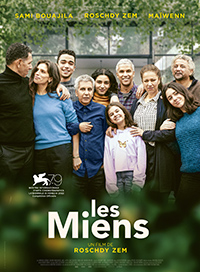 For his sixth film as director, celebrated actor Roschdy Zem assembles a notable ensemble of French-Maghrebi actors in Les Miens (Our Ties). It's unfortunate this narrative, co-written by Maiwenn, who also stars, couldn't latch hold of something more substantive in a middlebrow endeavor about the trials and tribulations of a bunch of siblings who are forced to deal with a medical emergency when one suffers a fatal condition. Initially attempting to showcase some intergenerational rifts, eventually the film meanders into focus on two brothers, where trauma allows at last for uncomfortable truths to be spoken.
Zem's latest is a somewhat difficult film to contemplate, given its inherent significance in showcasing a community either tossed to the sidelines in French cinema, or defined solely through strife and miserabilism. But an utterly banal and ultimately inconsequential journey ends up in the bourgeois bin of forgettable storytelling.
Moussa (Sami Bouajila) has recently learned his second wife has left him, apparently never to return. As he clears out her belongings, he decides to keep this a secret from everyone except his sister (Meriem Serbah). At a celebration for his youngest daughter's twelfth birthday, his brother Ryad (Zem) makes a rare appearance at a family function, a noted television personality who has a popular sports show, "Late Night Football."
The family playfully chides him for his absences, along with his girlfriend of two years, Emma (Maiwenn). Still reeling from his new single status, Moussa goes out with a co-worker one night, and after mixing substances, somehow ends up with an alarming head injury. With his brain swelling and causing a lethargy which could debilitate him for two years, his position as a CFO is jeopardized and his family rallies to support him. But the injury has turned the kind, empathetic Moussa into a rather nasty, aggressive person. Slowly, all those around him grow weary of dealing with his behavior, forcing Ryad to make an effort to step in.
As a director, Zem's body of work tends to focus on people in significant dilemmas, whether culturally or economically based, though his most well-traveled title is 2016's Chocolat, a biopic about the first Black circus performer starring Omar Sy. His latest might be most notable for uniting him with his Days of Glory (2006) co-star Sami Bouajila and director Rachid Bouchareb (technically making his acting debut). This film eventually decides to focus on the innate difference of the two brothers, with Zem's television showman forced to reconnect with the family to care for Moussa, previously the paternal glue which kinda held the rest of them together despite his significant relationship issues.
Opening upon his cruel abandonment by a woman who's decided to ghost him and high tail it to Morocco without any explanation, this blasts open some vague catalysts pushing him out of his comfort zone to allow for the resulting medical condition. Moussa then begins to suffer from a similar disease which magically assailed Jim Carrey in Liar, Liar (1997), the brain swelling apparently necessitating his utterance of the ugly truth. Whether it's calling his niece ugly and demeaning her Instagram dreams, slapping his son, or berating his sister, the simmering tension eventually abates, and suddenly the brothers become a focal point. In the background is Maiwenn, who has conceived a rather vague composite for herself as a neglected girlfriend.
Although Our Ties is a change of pace in reflecting familial woes not specifically defined by extreme duress (like another recent Maiwenn headlined film, Sisters, from Yamina Benguigui), it's unclear what Zem's ultimate takeaway is meant to be for any of these characters outside of Ryad's reminder to make a better effort in caring about loved ones. Zem's own daughter, Nina (who appeared alongside him as a child in Le Petit Lieutenant, 2005) has some charm, and Bouajila does what he can with squeezing out pathos from this character arch the best way he can. But the impressive Meriem Serbah (Games of Love and Chance, 2003), is the film's real standout as an overly attentive sister.
Reviewed on September 9th at the 2022 Venice Film Festival – In Competition. 86 Mins.
★★/☆☆☆☆☆