The Listener | 2022 Venice Film Festival Review
Phone Call from a Stranger: Buscemi Conducts a Conduit of Trauma in Striking One-Woman Show
Conjuring everything from Jean Cocteau to T.S. Eliot, Steve Buscemi unites with The Messenger (2009) scribe Alessandro Camon for his first narrative feature in fifteen years, the diametrically opposed The Listener. A one-woman grandstand for Tessa Thompson (also producing), the only actor onscreen guiding multiple phone conversations through miscellaneous vestiges of desperation during a routinely numbing night shift as a helpline volunteer, it's a hypnotic exercise predicated by moments of suggested violence, trenchant melancholy and often poetic rumination on human resilience despite the odds.
A cast of notables provide the vocal counterparts for Thompson, some immediately recognizable and others not, but Buscemi presents conversational vignettes both soothing and upsetting. Centering it is a (mostly) tranquil conduit in Thompson as an indefatigable receptacle absorbing and attempting to navigate the pain experienced by others, sometimes jostling her into reflecting on her own experiences which have primed her for an occupation which sparks the kind of catharsis we as humans can only reach through commiserating with others.
Beth (Thompson) begins a night shift as a helpline volunteer for those resisting dark nights of the soul. It's a peer helpline, meaning conversations are not recorded, calls are not traced, and operators claim their own life experience as justification to be a listener. As her shift begins, it's clear many callers simply need to be heard, calmed down, reassured. Others are angry, abusive and seem to be searching for someone to victimize. Throughout it all, the placid Beth works her way through the dark hours beside her well-behaved dog in a cozy Los Angeles apartment, waiting for the dawn as her night is consumed with back to back conversations.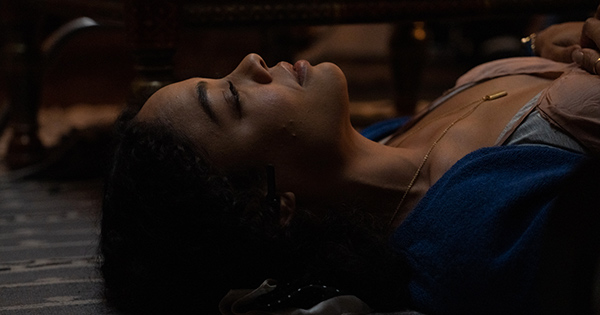 Buscemi's last narrative feature was 2007's Interview, a remake of the Theo van Gogh film which allowed Sienna Miller one of her most enjoyable and nervy performances. The Listener feels even more pared down, but explores themes of Camon's The Messenger through a focal point on the opposite end of the reception spectrum.
Echoing Cocteau's classic play The Human Voice, adapted to death by auteurs over the past ninety years, it's another exercise in vocal acrobatics, though Thompson is called upon to navigate various waves of shifts and subtleties, sometimes unnerved, at others frightened, particularly by men who seem keen on inflicting violence against women as a whole, such as one agonizing phone call with an Incel intent on sexual gratification through humiliation. Logan Marshall Green kicks off her shift, but a stellar array of distinctive personalities come through, including Margaret Cho. As to be expected, some are suffering from situational distress and others are defined by mental illness (like Alia Shawkat's Sharon).
The film's shining segment arrives with a late staged call from Rebecca Hall's Laura, an angry woman whose marriage and career have suddenly dissolved, sharpening her nails on questioning Beth's qualifications before both women stumble into a mutual respect for each other's thoughts and ideas. Laura isn't contemplating suicide but making an argument for its usefulness. "If 'I' am not mine," she questions, then perhaps an argument for religious and legal sanctions exists—-but Laura posits suicide is the only real way to claim one's self for one's own. "Unhappiness is like a shadow, always ashamed of itself," she remarks, disrupting the generally composed Beth into wading beyond the usual platitudes which tend to suffice.
It's some beautiful screenwriting from Camon, made all the more compelling from a fiercely convicted vocal performance from Hall. "Loss allows love, suffering allows happiness," offers Beth—-but does she truly believe this herself? When does the listener have to become an active participant, and how does this force a semblance of complicity with a stranger, where empathy shoulders a sense of coercion?
Much like the final lines of Eliot's "The Wasteland," there is an opposition to the power of human voices—-where J. Alfred Prufrocks awakens to drown in the reality of others, Beth is existing in an opposite realm, her sleep time (her dream time) occupied by realism and misery, meaning an escape from her own reality, her own death. There's an odd sense of hope despite it all by the end of her shift, whereas often these laser-pointed solo portrayals culminate in tragic upheavals (like a similarly stellar performance from David Oyelowo in 2014's Nightingale).
DP Anka Malatynska does a fine job of following Thompson through a claustrophobic, ochre tinged evening, avoiding cigarettes, locking herself in when uncomfortable, eventually wandering outside when she metaphorically opens up through her final conversation. As the titular listener, Beth guides her clientele and her audience through the discomfort of not knowing the answers and maybe realizing they wouldn't solve anything even if there were.
Reviewed on September 9th at the 2022 Venice Film Festival – Giornate degli Autori. 96 Mins.
★★★½/☆☆☆☆☆