Dance Dance Revolution: Murphy's Musical a Treacly Affair of the Sweet and Simple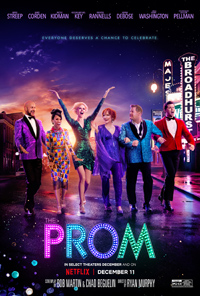 It's sugar and spice and everything nice in The Prom, Ryan Murphy's return to cinematic minded narrative filmmaking for the first time in a decade (his last theatrical release being 2010's Eat Pray Love) as well as the director's first musical. Amassing a formidable cast of luminaries mixed with nubile newcomers, it's based on the celebrated 2018 Broadway musical of the same name, which was inspired by real life news headlines from Mississippi in 2010 when a student was not allowed to bring a same-sex date to the prom, prompting vitriol from noted celebrities and the news media. For those with a weak spot for bloated musicals and sparkly, sunshiny narratives which prefer to eschew reality when it comes to real-life villainy and bigotry, Murphy's offering might seem like the perfect salve for a world still hunkering down as a pandemic continues to define a new era of creation and consumption.
For others, whether musical aficionados or not, this slipshod and schmaltzy affair feels as generic as they come, engulfed by the more lavish personalities who ironically, make this social message subtexts all about their own redemption, and much like the 1967 musical version of Doctor Dolittle plays like the death knell of a genre sorely in need of reinvention.
Broadway alums Dee Dee Allen (Meryl Streep) and Barry Glickman (James Corden) have no sooner debuted their new Eleanor Roosevelt musical only to find the production shuttered thanks to bad press following the premiere. Desperate to find a fast way to revive their flailing celebrity status, a chance drunken commiseration with forever Fosse chorus girl Angie Dickinson (Nicole Kidman) and Juilliard trained Trent (Andrew Rannells), moonlighting as a waiter at Sardi's, inspires an idea to ingratiate themselves upon a relevant news story which speaks to them. A quick google search reveals a headline about an Indiana student named Ellen (Jo Ellen Pellman), whose small community canceled the prom courtesy of the homophobic PTA rep Mrs. Greene (Kerry Washington), foregoing the traditional high school celebration rather than allowing a student to bring a same-sex partner. Mrs. Greene is oblivious on the fact of Ellen's date being none other than her closeted daughter Alyssa (Ariana DeBose). The four stage stars, along with PR Sheldon Saperstein (Kevin Chamberlin) crash into the small town of Edgewater and proceed to make matters worse. But their opportunism is tempered when Dee Dee finds surprise romance with principal Hawkins (Keegan-Michael Key) and Barry is allowed an opportunity to confront his estranged mother (Tracey Ullman), who lives nearby in Ohio.

Musicals, like comedy and horror, fall under the umbrella of a pronounced genre wherein its exaggerations and excesses often allow for subversive subtexts, something sorrowfully missing from Ryan Murphy's perilously hollow, slapdash soap box. The 2018 Broadway musical, based on an idea by Jack Viertel, with music and lyrics by Matthew Sklar and Chad Beguelin, respectively is itself a ripped-from-the-headlines and this neutered, mainstream minded mishmash is indeed a well-intentioned jaunt stressing the importance of community and self-acceptance.
At a certain point in time in decades past, something like The Prom might have felt revolutionary but it arrives like a period piece extolling the most basic of virtues without ever bothering to correctly characterize the trailblazing students at its apex. Pellman and DeBose are mere chemistry-less ciphers, robotic intrusions each time the focus deigns to return to their plight painted in cliches which further cement The Prom as something which merely preaches to the quietest of choirs rather than addressing the alarm of the continually trenchant homophobia which continues to be a defining experience for the LGBTQI community.
In essence, The Prom strangely feels like the product of well-meaning allies rather than anyone who actually has experienced these slings and arrows, which might partially be due to Murphy's overt dependence on the major players carrying the weight, namely Streep and Corden. And Corden's attempts at conveying the effete characteristics of a flamboyant gay man distract rather than justify his casting. However, at least there's something to discuss involving Corden because Kidman (one wonders why there wasn't at least some noted mention of the actual actress her character is named for) is utterly wasted as Angie Dickinson, a meandering Fosse number adding nothing to a narrative which probably could have benefitted from being trimmed down. Still, if we're talking stage presence, it's difficult to tear one's eyes away from Kidman which makes the narrative's inability to incorporate her logically quite frustrating.
Streep walks away as the most entertaining element, also nailing what comes closest to being the most memorable song, "It's Not About Me." But Murphy seems devoid of camp irony with either Streep's presence or character and one had wished for a little winking irony a la what was more masterfully accomplished in her opening number of 1992's Death Becomes Her. Which seems more strange since Murphy adds two new characters seemingly to enhance the interiority of Corden, including Mary Kay Place as Ellen's grandmother and a dowdy Ullman as a midwestern mother whose apology and retribution are the stuff of soap opera fantasy. And then there's the redemption for the homophobic rube at the center of it all with Washington's one-note Mrs. Greene. If the intended audience is for the film to be used as a tool for teaching children, then The Prom seems appropriate. But just because it's a bright-eyed musical (shot by Matthew Libatique) designed more specifically for theatrical escapism than a vehicle intended to generate the necessity of equality, soaking up the nostalgia factor in a world gone dark for the near foreseeable future isn't reason to sing the praises of material operating on the most basic narrative functions in storytelling. If one is looking for evidence of musical theater's sometimes slippery slope into solipsism, look no further than Ryan Murphy's attempt to 'zazz' up The Prom for naught.
★★/☆☆☆☆☆