A Woman's Face: Polak's Tender Melodrama Explores Struggle for Self-Love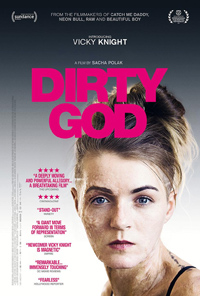 With her third narrative feature, Dirty God, which also stands as her English language debut, Dutch director Sacha Polak continues to explore how women are conditioned to define themselves through their bodies. Following her award winning 2012 debut Hemel, a graphic exploration of young woman embracing her sexuality, and the 2013 self-portrait doc New Boobs, which details options she's faced with upon discovering she carries the BRCA1 gene, her latest is a more drastic melodrama concerning how a woman's worth is determined solely by how attractive she's considered. Rising from the ashes of miserabilism, Polak follows a disfigured protagonist as she's forced to reinvent herself, discovering an untapped fount of resiliency, discovering through self-love and acceptance how to also make peace with the world around her.

Recovering from a vicious acid attack which left her face and upper body significantly scarred, Jade (Vicky Knight) is just beginning to venture out again into the world. Living with her young mother (Katherine Kelly), who tends to Jade's young daughter (a little girl who cries at the sight of her mom's new face, calling her a monster), there seems to be more dark days ahead. Slowly, we learn the man who attacked her was the father of her child, a figure who visits Jade in her memories. With the help of her supportive friends, she tries to disappear into South London's club life, but everywhere she goes, reactions to her scars follow. Taking a telemarketing job thanks to the help of her social worker, Jade also begins to look for sexual fulfillment online, which also significantly backfires. Her last real hope is plastic surgery, and so she plans for a trip to Morocco, where such modifications are cheaper and promising startling end results.
Not unlike the woman at the center of Polak's 2015 film Zurich, who discovers her lover had a double life when he dies, Jade is also suffering from an extreme betrayal. It's difficult to comprehend how any human could justify such a cruel act of painful disfigurement (and yet, it's certainly not entirely uncommon as evidenced by the 2007 documentary Crazy Love on Burt Pugach and Linda Riss). Here, the deed is relayed through Jade's own voice in narrative flashback, recalling the life-changing moment to a co-worker, one of the only people who has expressed genuine kindness since the incident.
Polak's subtle introduction of the perpetrator, whom Jade imagines visiting her in various sexually suggestive daydreams, is emotionally resonant, visually conveying the mixture of attraction, fear and anger she holds for him. Like the main character of Andrea Arnold's Fish Tank (2009), the scrappy, increasingly reserved Jade seems doomed to stumble into more problematic relationships. Pursuing her desires in online chat-rooms, she's cruelly slut-shamed by both her mother and a virulent online community, while increasingly she seems to lose any agency as regards her toddler daughter, a child still visited by the mother of the man who maimed her. Incredibly, newcomer Vicky Knight makes her film debut as Jade with a quiet, sensitively primed performance.
Dirty God turns on Jade's foolhardy trip to Morocco, where she escapes to undergo cheap plastic surgery. It's an opportunity for Jade to reflect on herself, however, including through the mutual attraction still felt by an old-flame who's in tow on the trip as her best mate's guy. It's a hopeful reprieve for the young woman, a small beat on how her external appearance has little relation to her internal worth. Polak upends the expected trajectory here—unlike Malgorzata Szumowska's recent Mug (2018), in which a young man is ostracized by his community after receiving a necessary facial transplant following a horrific accident on the job, Jade is allowed the possibility of empathy and love despite her new appearance (likewise, Polak includes a fanciful aside of Jade donning a hijab as a way to avoid the careless glances of others, expressing the positive possibilities of a potential avenue for anonymity in an increasingly cruel world).
Upsetting and downtrodden as it is eventually purposeful and forward-looking, Dirty God promises to be Sacha Polak's most lucrative self-explorations of a woman's agency to date, if mostly because it's a beautiful example of a woman determined to love herself despite being conditioned to do the opposite.
Reviewed on January 26th at the 2019 Sundance Film Festival – World Cinema Dramatic Competition. 104 Minutes.
★★★/☆☆☆☆☆