Reviews
Secret in Their Eyes | Review
The Eyes Have It: Ray's Unnecessary Remakes Pales Next to Source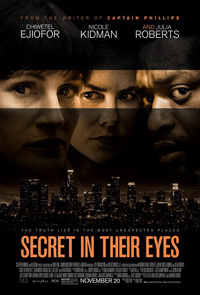 Thanks to mainstream America's huffy dismissal of subtitles when it comes to cinema, we continue with another unnecessary remake of a foreign film, Secret in Their Eyes, an English language, celebrity studded face-lift of Argentinean Juan Jose Campanella's 2009 title (which won an Oscar for Best Foreign Language Film that year). Screenwriter Billy Ray, after snagging his own Oscar nod in 2014 for penning Captain Philips, makes his third directorial effort here, following 2007's Breach and 2003's Shattered Glass. Reworking Campanella's pulpy subtext into a post 9/11 Los Angeles neo noir, kudos to Ray for revisiting a particularly awkward moment within a provocative framework. But the result is a glossy, Hollywood reworking which never feels better than a subpar rehash of something much greater. To be fair, Campanella's original has its own set of problems, with the director's flair for television apparent in how he burns through an exaggerated murder mystery not unlike a delicious telenovela (and it's important to note the Academy somehow deigned the film more worthy of an Oscar than fellow nominees A Prophet and the Palme d'Or winning The White Ribbon).
An energetic team of promising special investigators meet in Los Angeles in 2002, including Ray (Chiwetel Ejiofor) and his partner Jess (Julia Roberts). Newcomer Claire (Nicole Kidman) causes a stir in their office and Ray seems attracted to the emotionally unavailable beauty. While their team focuses on anti-terrorist measures investigating a local mosque, the body of a young woman is discovered in a dumpster near their subject of interest. The woman is the daughter of Jess, and her brutal murder twists all three of these investigators in different ways. Valiant in his attempts to pursue leads, Ray finds a prime suspect in an FBI mole in the mosque, a young man allowed to go uncharged with the crime due to his value to the agency. A botched attempt to rein the culprit in sends everyone off in their own directions, with Ray returning to New York City. But thirteen years later Ray comes across the original suspect again. He returns to Jess and Claire, now both in prominent positions of power, to resume the possibility of retribution.
Casting is an obvious problem for Ray's Secret in Their Eyes. Much ado was made over the Roberts' character gender switch (man in the first film) to accommodate the interested actress. But she's ultimately the weakest of the troubled trio, charged with bearing the greatest emotional trauma on the shortest character arc, and the result never feels less than a great exaggeration.
Nicole Kidman plays the world's most fashionable DA, and she exudes a certain brittle, old Hollywood aura in her role. She's beautiful, but ultimately never quite believable—kind of like seeing Lana Turner play a war journalist in Another Time, Another Place (1958). She does share likeable chemistry with Chiwetel Ejiofor, and it would be interesting to see these two performers together again in less stilted climes. Ejiofor, like the film at large, barrels through the narrative despite its lack of finesse, but we never quite believe his insistent obsession with the case. Instead, we're more prone to believing his simmering attraction to his co-worker as a greater impetus for his return (this would be a welcome perversion had Ray seemed to really highlight this energy, but it seems accidental and distracts from the tawdriness of the third act reveal).
Technical aspects of the original film are exhumed as well. Felix Monti's notable cinematography, including a swooping, unforgettable aerial shot through a sports stadium. DoP Danny Moder (husband of Roberts) attempts to recreate this magic with a sequence at Dodger Stadium, but the result doesn't manage the same sense of wonder, only highlighting the film's tendency to feel like a lifeless copycat. Most likely doomed to be nitpicked by critics and abandoned by audiences despite a gussied up cast, the greatest element of Billy Ray's remake is how it will fuel renewed interest in the original.
★★/☆☆☆☆☆