Reviews
Sin City: A Dame to Kill | Review
Love the Sinner: Miller & Rodriguez Bring Back Hyperstylized Noir with Mixed Results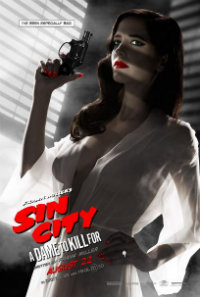 It has been almost a decade since the visually innovative Sin City thrummed into theaters, cloaked in lascivious shades of film noir nightmares. In between now and then, co-director and creator Frank Miller stepped out on his own in 2008 with The Spirit, an abysmal record of why perhaps Robert Rodriguez was a necessary cohort to return on the sequel, Sin City: A Dame to Kill For. Suffering from the regular pitfalls of the overly ambitious sequel, this chapter will surely disappoint those hoping to experience the same level of creative vicissitudes because this go round is a brittle, wearied tethering of varied storylines. But, imperfect their latest creation may be, it isn't without significant entertainment value. As cheaply as it tends to favor its multitudinous women, doling out an equal helping of misogyny with its crackpot male fantasy version of empowered females, there's one camp performance in particular that's powerful enough to warrant the entire tent.
It's a hard knock life in Sin City, and several of its citizens return to cross paths in the eternal night of the dangerous metropolis. Marv (Mickey Rourke) finds himself awake at the site of deadly crash, suddenly without memory of what brought him there. He begins to piece together earlier events that brought him to kill a pack of frat boys. Slick and perilously smug Johnny (Joseph Gordon-Levitt) picks up a lucky gal (Julie Garner) and sweeps up a passel of winnings before making his way to the poker game run by the city's most powerful man, Senator Roark (Powers Boothe). But those who win embarrass the Senator and tend to lose their lives. Then, Dwight (Josh Brolin), a grizzled private eye, is contacted by his ex, a dangerous woman named Ava (Eva Green). It appears Ava is in trouble, and before she can explain what kind, she's dragged off by her rich husband's foreboding chauffeur, Manute (Dennis Haysbert). Against his better judgment, Dwight follows. Lastly, depressed stripper Nancy (Jessica Alba) is still bummed about the situation that caused the death of Hartigan (Bruce Willis), inspiring her to develop her sharpshooting skills and alcoholic abilities as she readies herself to take vengeances for his death against Senator Roark.
Much as she does in the 300 sequel that premiered earlier this year, Eva Green demonstrates what a powerful asset she can be in otherwise subpar material. The jaundiced, hardboiled dialogue that Frank Miller excels at roils off her tongue as great as any of Raymond Chandler's flinty characters, her poisonous rendition of the ultimate femme fatale, Ava, worth the price of admission. Recalling a bevy of studio era noir vixens, she's the eponymous parenthetical for the sequel, and rightly so—she's transfixing. Like Ava Gardner in The Killers or Jean Simmons in Angel Face, she knows how to use her wiles, but, as usual, Green is reminiscent of the young Joan Crawford, while speaking with a clipped, staccato growl that recalls the glory of B-noir figure Coleen Gray.
Obviously, it's the storyline featuring Green that fares the best, paired with the appropriately gruff Josh Brolin and a questionably utilized Dennis Hasybert as a chauffeur/acolyte/weapon. A liaison between Green's dame and Christopher Meloni's manipulated cop proves to be the second, albeit very different pairing of the two actors this year since they're also playing a married couple in Gregg Araki's White Bird in a Blizzard.
Other segments tend to have inspired elements, though a tendency to overdo the grotesqueries and heavily stylized violence begins to lose its potency. Opening with Rourke's (looking like Daniel Auteuil met up with Ron Perlman's "Beauty and the Beast" make-up artist) temporary amnesiac amidst a flurry of "metal screams," the capable Gordon Levitt faces off with Boothe at his most reptilian, though this peters out with Rodriguez and Miller employing their weakest link from the first film, Jessica Alba. Shoddy to the quick, Alba's only usefulness to the film is her ability to generate the filmmakers' prized stylizations of beautiful women, the type that excels at using her body to get by. As soon as she opens her mouth, Alba kills what little noir-ish spell Dame manages to muster. Likewise, Martin Csokas plays one of those codified homosexuals (his second this year if you count The Amazing Spiderman 2) quickly dispatched before we're able to gauge the level of homophobia in the gothic confines of Sin City.
An impressive series of other supporting players filter in and out of the milieu, including a standout scene between Ray Liotta and Juno Temple, while other returning players like Willis and Dawson seem wholly unnecessary, if not downright silly. "Hell is having to watch those you love in pain," growls the Willis phantom, proof that Miller's sterling dialogue can sometimes be tarnished by cliché.
While Sin City: A Dame to Kill For may ultimately register as just one more disappointing sequel, its nostalgic glorification of the bygone era of film noir and its seedy underbelly is still quite intact, and frequently enjoyable. As editor and cinematographer, Robert Rodriguez splices the film's breathless animation seamlessly into several moments of rapturous delight.
Typically stamped with gratuitous female nudity (Temple and Green bare all while Brolin's package is discreetly shadowed to the extent that we wonder if his anatomical correctness should be questioned), it will be hard to dispel from your mind the moody ambience of Green gliding like a serpent through murky pool waters, smoke rolling off her skin as if she's already burning in hell. It's the type of over the top sequence that recalls another era, like Claudette Colbert's queenly milk bath in The Sign of the Cross or re-appropriating Botticelli's vision of Venus. Starting off strong, confidently aware of style and tone, Dame loses its self-assurance, and by the denouement of its final tale, falls down hard.
★★½/☆☆☆☆☆