Adagio | 2023 Venice Film Festival Review
Rome, Smoking City: Sollima Languorous Thriller Tiresomely Tests Narrative Cliches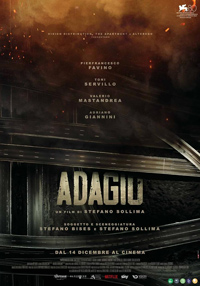 The most apropos element of Stefano Sollima's Adagio is the title itself, as it's two-hour-plus running time certainly glides slowly over its intersecting elements in Rome's underbelly of crooked cops and aging gangsters, desperately converging as wildfires ravage the metropolis. While pacing in a crime thriller doesn't necessitate high octane frequency (and can often benefit from the inevitable anxiety of deferred action, as evidenced by a director like Jean-Pierre Melville), it can be a burden when the narrative is structured on nonsensical motivations and poor character development. Sollima, who is returning to Italy after the meaty sequel Sicario: Day of the Soldado (2018) and the clunky Tom Clancy's Without Remorse (2021), snags two of his country's most prolific contemporary players for his latest, Pierfrancisco Favino and Toni Servillo, both of whom feel underutilized as plot devices in this toothless thriller.
Twentysomehting Manuel (Gianmarco Franchini) finds himself caught in an impossible situation, beholden to Vasco (Adrian Giannini) as he goes undercover at a gay night club to take compromising pictures of a middle-aged man in drag. Alarmed when he realizes the entire club is being monitored, Manuel flees, heading to see Pol (Valerio Mastandrea), an older blind man who used to work in a notorious gang with his father, Daytona (Toni Servillo). It seems Manuel was caught doing something illegal, and to avoid jail time has agreed to assist Vasco's team in taking down a powerful official. As Vasco's team tracks down Manuel, the young man is forced to seek out the services of another faded gangster, Romeo (Pierfrancisco Favino), compassionately released from prison on a sentence he's serving due to Daytona.
What's considerably off-putting about Adagio is how it bolsters a cultural sense of homophobia rather than exploring how it's actually the driving force behind the dramatic catalysts, thus feeling like an archaic exploitation film about a bunch of old fogies reveling in a reclamation of hyper masculinity in their golden years. The initial promise of a sting set in a pulsating gay club seems promising, with Manual being blackmailed by a sinister trio of undercover cops to entrap a political figure who has a penchant for drugs and male prostitutes (never mind we're supposed to believe this coke fueled den of iniquity is operating in full swing as families are casually having dinner). Since we're never really quite sure why it's so imperative they must apprehend this politician no matter what, the motivation seems personally motivated. Worse, it's confirmed Manual's big secret which forced him to collude with the police was being caught soliciting men for sex, though we're explained this was out of his desire to buy nice things for himself (such as a pair of fancy headphones) and also so he could afford to take girls out on dates.
Although Sollima brings together an exceptional cast of Italian notables, the over-baked narrative (co-written by Sollima's "Gomorra" scribe, Stefano Bies) feels too infused with detritus, such as the blind Pol played by Victor Mastandrea, who leads Manuel to Romeo aka The Camel, portrayed by an unrecognizable Pierfrancisco Favino, dying from cancer and completely hairless. Favino is fashioned as the film's protagonist, but with exceptionally wan character development, apparently motivated to assist Manuel because he reminds him of a slain son, murdered in a bust which saw him serve a twelve year sentence while protecting ex-gang leader Servillo.
Romeo's narrative thrust (who has a fraught, overwrought relationship with his wife, who only allows him to sleep on a cot in their dingy kitchen) basically mimics John Cassavetes' Gloria (1980), the reluctant protector of a child pursued by deadly assailants. The film is meant to complete a thematic trilogy for Sollima, following ACAB: All Cops Are Bastards (2012) and Suburra (2015).
Servillo is saddled with the worst off depiction, suffering from bouts of dementia which are about as convenient and over utilized as the electricity which keeps shutting off all over the city thanks to the wildfires. His relationship to his son, who he claims is adopted, is muddled at best, as is his suddenly aggressive interception with the cops chasing Manual. Eventually, much like his Tom Clancy adaptation, Sollima's inability to make any of these characters remotely interesting, robbing the narrative of any potential tension, makes the third act's drifting towards the predictable finale a long slog. If anything, Adagio suggests Rome is a bleary, preapocalyptic criminal hot zone, where the old, heteronormative guard seems most bothered by the gays engaged with their hedonistic escapism as they dance until the world ends.
Reviewed on September 2nd at the 2023 Venice Film Festival – In Competition. 127 Mins.
★★/☆☆☆☆☆