Let Them All Talk [Video Review]
I Heard the Owl Call My Name: Soderbergh Navigates a Tricky Reunion in Bittersweet Drama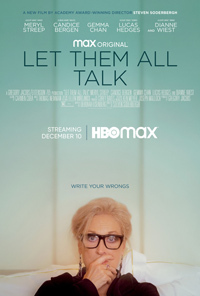 Truman Capote once said, among many things, "All literature is gossip." Of course, this observation would eventually define his technique and ruin several high-profile friendships for the celebrated author who was using the real lives of others to populate later novels.
It's also the through line evident in the latest film from Steven Soderbergh, Let Them All Talk, which is based loosely on the first-time script from Deborah Eisenbergh, which apparently was used only structurally while the cast improvised characterizations and dialogue.
With a formidable cast in tow, the festering resentments of a celebrated author's friends comes to the fore in this loquacious rumination on the process of creativity and what a fickle mistress a muse can often be.
Upon the retirement of her trusted agent, author Alice Hughes (Meryl Streep) finds herself pressured by the publisher's replacement, Karen (Gemma Chan), eager to glean information about the latest, long-gestating manuscript. The publisher is keen for a sequel to the writer's most notable success, You Always, You Never, a text Alice feels is inferior to later masterworks. Simultaneously, Alice finds she is the recipient of a prestigious award bestowed upon writers by other writers, a distinction which isn't given out annually. To accept the accolade, she must travel to the UK. However, she claims to be terrified of flying, leading Karen to suggest the publishing company will foot the bill for Alice to travel on a transatlantic cruise. Alice invites three guests to accompany her, nephew Tyler (Lukas Hedges) and her two best friends from college, Susan (Dianne Wiest) and Roberta (Candice Bergen), two women she hasn't been in touch with for decades. The reunion is fraught with animus thanks to Alice's pretentiousness and some other historical slights which seem to have affected one of them negatively. Though Alice believes she has the upper hand in controlling the itinerary of her captive party, her guests have other ideas.
Streep, as if often the case, would seem to be the main selling point, reuniting with Soderbergh following the 2019 title The Laundromat, in which the actor infamously donned brown face for a pointed vignette-style satire on insurance fraud. And as the prickly, pretentious Alice Hughes, Streep provides the expected razor-sharp caricature we expect from the film's lighter tone, provided with a number of passive barbs and cheeky gags (her obsession with an obscure Welsh feminist writer named Blodwyn Pugh and her novel The Realm of the Owl is a high point in the myriad of such fictional details). As the narrative's anchor, she shares a number of entertaining exchanges, including a fitting chemistry with Lukas Hedges, whose one-sided romance with her placating new agent (played by a winning Gemma Chan) provides all the energy a similar scenario for his character in French Exit (2020) does not.
But Soderbergh's bread and butter arrives in the shape of Dianne Wiest, the glue sandwiched between two self-obsessed frenemies, and a delightfully bitter Candice Bergen, who walks away with the film's most persuasive energies. If anything, it's a reminder of Bergen's prowess, who starred in a number of auteur features prior to her cemented iconicity as "Murphy Brown," and one yearns for a continuation of Roberta's journey, who is left ambiguously on a precipice indicating she might indeed finally have the agency to tell her own story.
Set almost entirely on the Queen Mary 2 and featuring an addendum to the title (aka The Fall of 2019), Wiest's poetic aside on Elon Musk, referencing how he sent satellites into space to look like stars, further formulates another underlying motif about the shifting paradigm of reality. As such, arriving a year after Soderbergh filmed it, in the throes of a pandemic, it's granted a further solemnity as a recently sealed time capsule from a world that once was.
★★★½/☆☆☆☆☆