Taken a Break: Megaton's Slurpy Finish Brings Euro Schlock to L.A.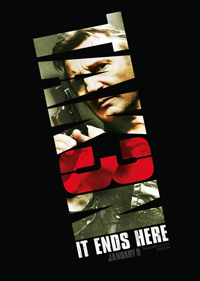 It should surprise no one that Taken 3 is a laughable, sometimes downright embarrassing mess of stapled together derivatives, narrative clichés, and the kind of god-awful dialogue that makes one wonder if screenwriters Luc Besson and Robert Mark Kamen even know what real life human beings sound like. Director Olivier Megaton, acolyte of Monsieur Besson, returns to direct the third installment, which is a minor improvement over Taken 2 if only due to the fact that we're not simply photocopying the initial film that started us down this 'rabbit hole' in the first place. But then, the film belies the faulty foundation from which the franchise was born—this could have easily been any generic celluloid jockstrap for Mr. Neeson, honorable family man extraordinaire defending the innocent and (usually) privileged targets of ill will to some inane or illogical resolution. Saddled as we are with the increasingly distracting looking Famke Janssen and the absolutely unappealing flavor of Maggie Grace, the film barely seems cognizant of its predecessors, instead trying to jaggedly hide the fact that it's basically aping The Fugitive (1993).
Discovering she's pregnant on her birthday, Kim (Maggie Grace) is attempting to navigate through life as a college student and maintain a relationship with her boyfriend (Jonny Weston). Ever the committed father, Bryan Mills (Liam Neeson) seems unable to accept the fact that his little girl is all grown up, despite the fact that he saved her from a savvy underground prostitution ring seven years prior and saving her mother Lenore (Famke Janssen) from another harrowing situation not long after. Lenore, currently in the midst of a failing marriage with Stuart St. John (Dougray Scott), finds herself gravitating towards the comfort of Bryan's dependable strengths, which isn't a problem for Bryan. However, scheduled to rendezvous for bagels one morning at his apartment in South Los Angeles, Bryan returns home to find that Lenore's been murdered there, and he has been fingered as the prime suspect. Racing against the clock, Bryan must find out who killed Lenore and why, while hotshot detective Franck Dotzler (Forest Whitaker) trails him. Because if he doesn't, his freedom might be 'taken.'
On a positive note, it might be safe to assume that this will be Liam Neeson's last step into this blue collar superman's shoes, or at least one hopes so. While his action star status has brought a revitalization of sorts to his career and box office glory, it could eventually eclipse it entirely, not unlike what four Death Wish installments did to the legacy of Charles Bronson.
As the indefatigable Bryan Mills, Neeson is amiable, if increasingly unbelievable as he vaults out of buildings and endures endless physical altercations. In great shape for his age, it's still distracting, masked as this reality often is by the endless cuts and camera whirs meant to discombobulate and thrill in nearly every fight sequence. But Megaton and his crew do these kinds of feats best, and Taken 3 isn't without a laudable stunt sequence, or two, but when all of the creative energy has been sapped by these short-lived highs, the remaining one hundred and thirty five minutes feel significantly dreary. True, Nathaniel Mechaly captures a lot of great aerial shots and otherwise of vibrant Los Angeles, but this often feels like overcompensation. A car tumbling down a mountainside embankment should have us screaming like Kathy Bates in Misery about how someone couldn't possibly have gotten out of 'the cockadoodie car,' while the constant over explanation of secrets and double crossings calls for a shudderingly insipid black and white montage of the main Russian baddie's (played by the very British Sam Spruell) military training in Afghanistan. Like in 2014's The Equalizer, those darned Ruskies are the convenient scapegoats of the criminal underworld.
While Neeson is barely serviceable, he's the least of the clunky offenders. Forest Whitaker provides a few unintentional laughs, clutching the Knight piece from a chessboard and snapping an interlaced rubber band to represent a composite of his wanly realized character. If a fourth chapter is inadvisably mounted, Famke Janssen has been relieved of duty, but one wishes Megaton and Besson had been brave enough to branch out more forcibly and dump the incredibly grating character played with increasing abandon by Maggie Grace, who enters the film by demeaning her father for buying her an oversized stuffed Panda and also forced into incredibly half-baked character tics utilized for hokey narrative convenience, such as her penchant for only drinking peach yogurt smoothies from one particular gas station. And only drinking the fourth bottle back. Sounds like she'll make a great mom.
As it reaches a grand finale, Taken 3 ends as it began–another segment in a bloated, lazily drawn cash cow that offers a few laughs and high octane chases. Unnecessary and filled with illogical happenings, it's just another alarmingly violent PG-13 film, showing tons of gruesome shootings yet, thankfully, scrubbing out the F words we can see the actors shouting. It's important to be able to focus on good taste.
★/☆☆☆☆☆