The Gun Show: Morel's Failed Fashioning of Penn Into Unlikely Action Star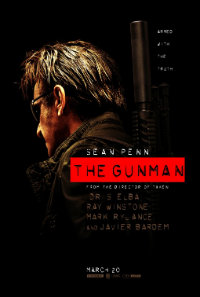 If anything, it's safe to say that The Gunman, the latest film from Luc Besson acolyte Pierre Morel, is hardly as silly as previous action films, such as 2010's From Paris With Love and the first 'chapter' of the Taken (2008) trilogy, which lands the French helmer the distinction of revitalizing the career of Liam Neeson. On the surface, it looks like the director is priming Sean Penn for a similar autumnal invitation to action star status, but while the performer's hermetic seriousness may downplay the film's camp value, it also neutralizes any aspect of entertainment.
Not smartly written enough to be a truly intelligent thriller with either a political or activist inclined angle we're used to seeing from Penn's increasingly infrequent on-screen performances, the end result is a leathery prune of a film, dried out and tasteless even while interspersed with several nicely choreographed, viciously violent action scenes. It's hard to say just how skilled Penn's trigger man is with his weaponry, as his occupation is outshined by a more impressive gun show, that of the actor's oft featured torso and sweat gleamed biceps.
With political tensions mounting over the mining industry in the Republic of the Congo, a Special Forces government contract team is tasked with assassinating the minister of mining. Felix (Javier Bardem) is the civilian go-between, communicating the client's wishes to the Special Forces team comprised of Terrier (Sean Penn), Stanley (Ray Winstone), and Cox (Mark Rylance). The contract demands that the actual trigger man leave the continent immediately after the job is complete, and when Terrier is assigned this duty, he is forced to leave behind his lady love, Annie (Jasmine Trinca), without an explanation. Eight years pass, and Terrier has returned to Africa to run an NGO office providing clean water to villagers. When three men attempt to kill him, he seeks out Cox in London, convinced that their job eight years ago has something to do with this attempt. Cox points Terrier to Barcelona, where Felix now resides. Once there, he discovers that Felix and Annie have married, but he must find out who wants to kill him and why, because whoever it is may be hunting all those associated with that contract.
Suffering from detrimental brain plaque that's built up over years of head trauma seems included to up the dramatic stakes against Terrier's chances, but this only further aligns the film with a familiar formula, and actually feels kind of like the film Paul Schrader was trying to make with Dying of the Light, replete with globetrotting and rekindling of faded romance (or the cancer ridden assassin Kevin Costner plays in the even siller 3 Days to Kill).
Jasmine Trinca, who you may recognize from her notable turns in Nanni Moretti's The Son's Room and Valerie Golino's directorial debut, Honey, happens to be a talented Italian actress stapled into a thankless role as a woman without any agency, happily living with Javier Bardem's character even though it seems she couldn't care less for him as soon as Penn walks into the room, spurring a heated three-way spat that runs its course over two sequences to rather silly effect.
As Felix, Terrier's frenemy, Bardem looks an awful lot like Jeffrey Dean Morgan here, and isn't given much to do. Likewise, a host of other notable supporting players seem resoundingly silly, such as Ray Winstone and the very late appearance of Idris Elba in an utterly pointless cameo. British actor Mark Rylance dons a gruff voice and uncustomary persona and there's a bit more energy on screen when he's directing Finnish star Peter Franzen to do his bidding, resulting in a rather pointed death sequence.
Considering this is based on a novel by Jean-Patrick Manchette, a celebrated author whose works used to be adapted by the likes of Claude Chabrol, Alain Delon, and Jacques Deray, it seems a pity that The Gunman fails to make any kind of real impression at all, other than as a failed attempt to revisit a formula Morel and Neeson lucked out on with Taken.
★★/☆☆☆☆☆