Harvest Home: McNaughton's Return Yields Blighted Crop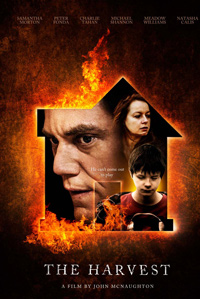 Fans of director John McNaughton, known for his gruesome cult classic Henry: Portrait of a Serial Killer (1990), as well as that tawdry neo-noir Wild Things (1998), will be happy to realize he's returned to filmmaking with The Harvest, his first feature film since 2001. An indie thriller written by first time screenwriter Stephen Lancellotti, it's headlined by the likes of Michael Shannon and Samantha Morton. While there are several standout moments in the film, it's constantly marred by an underwhelming screenplay that has a few too many inconsistencies to support the development of tension or believability. The insistent need for extravagant twists undermines the logic of the narrative, something unnecessary here considering the intensity of the performances.
Katherine (Morton) and Richard (Shannon) care for their son Andy (Charlie Tahan) in their isolated home in the countryside. Both working in the medical profession, they care for Andy's rare degenerative disease on their own. But when a new girl, Maryann (Natasha Calis) moves in with her grandparents (Peter Fonda, Leslie Lyles) nearby, she accidentally sparks a friendship with the lonely boy after spying on him through his window. However, Katherine isn't too keen on having Maryann around and makes her displeasure quite evident. Tensions rise as Maryann insistently returns to spend time with Andy, eventually leading to the discovery of something Andy's parents have been trying hard to keep secret.
Shannon's generally unnerving intensity takes a back seat to a formidable performance from Samantha Morton. Several penetrating exchanges invert gender roles and dynamics, with Morton's physician basically gloating of her superiority over her nurse husband. It is excellent reverse casting considering Morton's most famed roles are meek and mild sorts, the mute Hattie in Sweet and Lowdown (1999) or the pre-cog in Spielberg's Minority Report (2002). Here, she's a vivid terror of haywire maternal instinct, digressing to the state of a wild animal in one frantic scene, unaware of the drool falling freely out of her mouth. So it's too bad that the film built around these two sometimes feels utterly unsalvageable. Bookended with a corny (and misleading) kid's baseball game, George S. Clinton's oblivious score seems written for a different film entirely, establishing an awkward rhythm of warring tonal shifts, probably meant to distract us from guessing it's not so unpredictable secrets.
As the increasingly blighted child, Charlie Tahan (Love is Strange, 2014) gives a serviceable performance, though after a big reveal, hindsight mars his believability. However, Natasha Calis (the moth plagued bairn from The Possession) is the weak point here, both from her unenthusiastic acting and as the screenplay's gaping plot hole. How she handles the news of the terrible secret she discovers is laughably unrealistic, as is her grandfather's (a rather corny Fonda) response when she flaccidly tries to share her incendiary info.
It's a pity, since there are some queasy possibilities at work here, even though the plot is basically a riff on Eyes Without a Face (1960). And as far as crazy movie moms go, Morton's Katherine makes slogging through the rest of this worthwhile.
Reviewed on July 24th at the 2014 Fantasia Film Festival.
★★/☆☆☆☆☆