For a Few Hours More: Tarantino's Flamboyant Style Stamped onto a Salami Western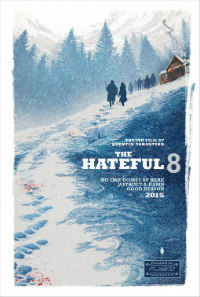 Quentin Tarantino returns with his latest feature, The Hateful Eight, another retro re-hash of period following the revenge fantasies of WWII set Inglourious Basterds (2009) and the pre-Civil War American Deep South in Django Unchained (2012). Returning to the inspirational pool of the Spaghetti Western for his latest concoction, Tarantino showcases another tale of violence, greed, and betrayal amongst marauders and peripheral bounty hunters in post-Civil War Wyoming. Utilizing his particular brand of characterization, a fine borderline of catchy kitsch and inspired homage, Tarantino resurrects 70mm Panavision, a film stock twice as wide as 35mm stock, and the title represents the widest theatrical release the format has seen in over twenty years. The presentation alone is enough to inspire interest for cineastes, but it arrives with a high bar of comparison considering titles like Lawrence of Arabia (1962) and 2001: A Space Odyssey (1968) are examples of similar formatting associations. Tarantino's playful retooling with non-linear narrative doesn't feel as experimental as it used to, while this bloody tale of revenge and retribution simply doesn't justify such epic scope. Despite some tonal awkwardness during particular segments, Tarantino once again manages some unforgettable moments graced with his own particular brand of perversity.
In the middle of snow laden Wyoming, bounty hunter Marquis Warren (Samuel L. Jackson) finds himself stranded with two corpses. When a carriage comes upon him in the snow driven by the affable O.B. Jackson (James Parks), Marquis speaks with the man who hired the private passage, John "the Hangman" Ruth (Kurt Russell), also a bounty hunter escorting his prized captive, criminal Daisy Domergue (Jennifer Jason Leigh) to the nearby town of Red Rock. She's worth ten thousand dollars, so Ruth has the woman cuffed to his wrist. It turns out Marquis knew Ruth during his capacity as a Major in the Civil War, and Ruth allows his colleague to share the ride since a deadly blizzard looms behind them. On their way, they meet another stranded man, Chris Mannix (Walton Goggins), and Ruth recognizes him as being part of a once notorious rebel gang. But Mannix claims to be the newly appointed sheriff of Red Rock, on his way to his new post. As the blizzard hits, the small crew makes it way to Minnie's haberdashery, a general goods store in the middle of nowhere. Inside, Ruth finds four men (Tim Roth, Michael Madsen, Bruce Dern, and Demian Bichir) also waiting out the storm, each having considerable secrets to reveal.
As the opening credits indicate, this is the eighth feature film by Tarantino, so we should expect to only see two more considering the auteur's decree of retiring before his interests and style loses relevancy. His fascination with vengeance and characters either existing in the actual past or obsessed with reconciling their own continues to be the impetus for his creations. Its title alludes to John Sturges' popular 1960 western, The Magnificent Seven, itself an English language remake of Akira Kurosawa's Seven Samurai (1954). But this is a superficial resemblance since The Hateful Eight is inspired by the more flavorful movement of the Spaghetti Western, particularly the stratified betrayal narratives of the subgenre's forefather Sergio Leone, as nearly every member of this disparate clutch of characters is either motivated by a desire for money or basted in the racially motivated hatred of the post-Civil War era. Tarantino's penchant for anachronism allows for a bit of pithy resonance with today's modernized evolution of institutionalized racism, but casting Samuel Jackson's racial 'other' into an isolated snake pit also recalls salty grindhouse shenanigans, like poor Lesley Uggams being accosted by a redneck Shelley Winters and her Elvis impersonating son in 1975's Poor Pretty Eddie.
Though its extended first half capitalizes upon Tarantino's signature styling of repartee, sometimes to the detriment of the narrative's energy, The Hateful Eight is, without a doubt, a magnificent visual spectacle. DoP Robert Richardson's (the three time Oscar winner also lensed Kill Bill, Inglourious Basterds, and Django Unchained) frames feel most impressive in the wide, panoramic vistas of the snowy, exterior wilderness. Yohei Tanada's production design is relegated to the confines of the isolated haberdashery, and while the film achieves a certain tension in this claustrophobic space, we get desensitized to its visual artistry.
A delectable opening sequence unfolds to a superb Ennio Morricone score, who seems inspired by later Bernard Herrmann, and it ranks as one of the maestro's automatic best. As we graze over a snow-encrusted gravestone featuring Jesus on the cross, the deity feels like the hyperborean cousin to Tobe Hooper's opening sequence of the rotting corpse in The Texas Chainsaw Massacre (1974).
Perhaps in response to the backlash against his use of a particular racial slur in his screenplays, Tarantino goes into rueful overdrive, mercilessly peppering his latest script with the negative epithet, though it arguably demarcates its white characters into redemptive camps. Jackson, often a colorful supporting player in Tarantino's outfits, takes center stage as Major Marquis Warren, a solemn hangdog of a character doing his best to survive in a cruel white man's world (an episode hinging on his character's possession of a letter from Abraham Lincoln is Tarantino's most meaningful and emotionally complex interaction in all this mayhem). Kurt Russell once more dons his John Wayne impression (last used in Carpenter's Big Trouble in Little China), a rather dim-witted, but sometimes well-meaning genre staple, replete with a dark streak of misogyny.
The treatment of women will most likely be another major point of contention. Peripheral characters, such as an obnoxiously cartoonish Zoe Bell, and a rather dimwitted Dana Gourrier (the haberdashery owner) are broadly drawn characters. But Jennifer Jason Leigh's vile criminal, Daisy Domergue, has to be one of Tarantino's most contemptible female characters yet. Leigh is quite memorable as the racist, manipulative criminal, though she suffers from a shocking amount of extreme physical abuse at the hands of her captor. Tarantino succeeds with his desired effect, though it's certain to have many crying foul, even if the director is rightfully depicting the vicious violence of the period (and Daisy is, after all, a brutal criminal herself).
Though its first half sows the deliberate seeds for the latter half's bloody fireworks, it still feel like we're being forced into humoring Tarantino's whims. Each character's 'layers' of deception indicate the order of the kill list, with those who have less to hide falling victim to the more insidious members. As we navigate towards an inevitable showdown, albeit one whose surprises are kept longer thanks to switching back and forth in time, Tarantino manages several delectable asides as concerns mankind's ability to poison each other's minds. In an act of creative retribution, Jackson's Major conveys a particularly distressing recapitulation of just how the son of Bruce Dern's confederate General met his disturbing end. Likewise, several other moments are enhanced by Greg Nicotero's makeup effects, with Leigh left looking like a blood soaked, toothless demon before the credits roll. A number of supporting players get their notable moments, including a surprise turn from Channing Tatum, while Tarantino regulars Michael Madsen and Tim Roth (in the role one could picture Christoph Waltz playing) and Walton Goggins excel in their own particular ways.
Unfortunately, The Hateful Eight doesn't rank as one of Tarantino's best works thanks to several off-key moments, including uncustomary swaths of subpar dialogue wherein the writer/director's particular strengths aren't apparent, such as an extended diatribe on stew. And much like Django Unchained, the film's more indelible moments occur in the director's more outlandish sequences. Fans of Tarantino's idiosyncratic lustiness will undoubtedly be enamored, but though the narrative is fantastical, there's not much by way of surprise, and The Hateful Eight, no matter how entertaining it may be, feels like the work of filmmaker intent on staying within his own comfort zone.
★★★½/☆☆☆☆☆