Reviews
The Hunger Games: Mockingjay – Part 1 | Review
The Games They Play: Collins' YA Dystopia Trudges On and On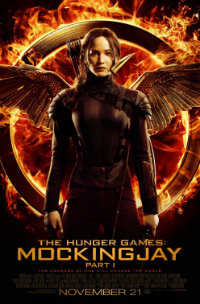 As is now customary in the designed business model of franchise movie making, the last novel of dystopic YA trilogy The Hunger Games has been divided into two installments, spread a year apart in order to keep interest alive. If the second film of the series, Catching Fire (2013), felt like a bigger budget rehash of basically everything that already happened in the first film, Mockingjay: Part 1 is at least interesting for its drifting away from the formulaic model already established, yet it feels something like a misnomer of a film, more of an extended prologue to a finale rather an actual 'part' deserving of its own distinction.
Languishing in the bowels of the underground District 13, long thought extinct, Katniss Everdeen (Jennifer Lawrence) is now being recruited by this district's leader, President Alma Coin (Julianne Moore) and surprise ally Plutarch Heavensbee (Philip Seymour Hoffman) to be the literal face of the revolution. They will film her in a series of propaganda to be projected to the rest of the unsettled districts in hopes to unite them all as one against the Fascist inspired Capital, run ruthlessly by the domineering President Snow (Donald Sutherland). However, Katniss is at first reluctant, but finding that her love and fellow hunger games survivor Peeta (Josh Hutcherson) is being wielded as the Capitalist's voice of propaganda, Katniss jumps on board, aiming to save him as she continues to inspire the other districts to rebel. But it may be too late.
By now, we've become very familiar with Ms. Katniss Everdeen's plight, survivor cum revolutionary symbol being knocked around on both sides, along with her romantic cohort Peeta. As Sutherland's smirking President Snow surmises, it's what we love that weakens us most, and so Mockingjay jets about on a series of mounting tangents and volleys that bring us to almost nearly to the precipice of something that looks like a finale. And that's exactly what this chapter is—an 'almost' film, a word used nonchalantly and accidentally within the film's own porous language. Her sister informs Katniss that she could ask of her followers "almost anything."
When hunting unwary elk on a special surface trip in District 13, the staunchly supportive Gale (Liam Hemsworth) comments that the animals' lack of self-preservation makes hunting them "almost not fair." And so, at many points, this first part of the final chapter of Katniss Everdeen is almost exciting, almost thrilling, and maybe even almost intelligent in its navigations of political repartees and infiltration of the media. But there is no verisimilitude here; only an easily rendered, thinly drawn portrait rife with recycled possibilities.
Heavy hitting supporting names from Moore (an icy, matter-of-fact ruler that was unfortunately given distracting copper toned contact lenses) to Hoffman's final film characterization, add a definite weight to the proceedings, a seriousness not evident with the franchise's comic relief characters here appearing briefly in the form of Woody Harrelson, Elizabeth Banks, and Stanley Tucci.
DoP Jo Willems returns from Catching Fire, once again clearly outdoing the cheap pallor of Gary Ross' first installment. But as the films get glossier and are granted a higher production value, the commitment of its young, Oscar winning lead is waning. Everdeen should be hip to the game by now, but she's played with wishy washy boredom by Lawrence, continually oscillating between her love interests and political paradigms. It'll be great if we can ever see her avoid dipping into harsh shrieks of surprise at the continually wicked ways of the Capital.
★★/☆☆☆☆☆