Arrested Development: Glanz's Debut an Affluent Vacuum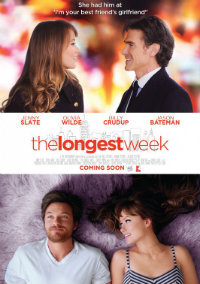 For the most part, it's an ingenious trick to fabricate an aura of empathy around a pool of pretentious piranhas endlessly floundering about in the upper echelons of privilege and oblivion. To extend an invitation to witness purported romance amongst elitists garnished with nothing more than an immeasurable trust fund and the preened hue of an Ivy League education would seem nearly impossible to enjoy, and, thus, Peter Glanz's directorial debut, The Longest Weekend is a generous case in point.
Despite a nicely chosen cast and a handful of flourishes borrowed from the works of cinematic masters, there's little carbonation to this stale elixir that too often depends on cliché. Overreaching and stifled by its own unnegotiable parameters, this is a highly artificial portrait of all that it attempts to convey.
Now entering his fourth decade of life, namby pamby playboy Conrad Valmont (Jason Bateman) fritters away his existence living off his rich parents, ensconced in their luxurious Manhattan hotel that bears the family name. But due to an unforeseen snag (sudden plans for divorce), his parents decide to suddenly stop supporting their son, which forces him to go live with his best friend, a successful artist, Dylan Tate (Billy Crudup). Without any money, Conrad is forced to ride the subway to Tate's, and just so happens to meet a beautiful model, Beatrice Fairbanks (Olivia Wilde), who bats her eyes at him over the pages of Sense and Sensibility. A torrid connection occurs off-screen, but she just so happens to be the woman that Tate has been courting rather seriously.
There's a faint wisp of the Choderlos de Laclos novel Dangerous Liaisons thanks to Bateman's strikingly named Conrad Valmont, sharing the same surname as that insidious Vicomte, which was the title of Milos Forman's 1989 adaptation (Beatrice's last name, is, of course an allusion to the famed Fairbanks clan). Presented as an irresponsible playboy who was never forced to grow up, we're led to believe that his parents' divorce is the surreptitious reason to cut off their child's livelihood without warning. Then, without further ado, a chance subway ride brings him into the orbit of a Jane Austen reading model who just so happens to be conservatively canoodling with his bestie.
Flecks of Jules and Jim and Fitzgerald's The Beautiful and Damned appear to influence the development. While Glanz, adapting the screenplay from a story by Juan Iglesias, isn't copycatting, The Longest Weekend seems to be aping the cinema of Woody Allen, replete with random details dropped on its characters, like Beatrice's supposed obsession with the occult and her upper West Side mystic.
Of course, the most obvious sign of this is the omniscient narration of Larry Pine, whose soothing intonations relate the character's inner emotions along with other additional expressive details. But this is the type of extraneous gimmick that must congeal with the film, a la Woody Allen's Husbands and Wives (along with several other titles), or, more recently, Alex Ross Perry's Listen Up Philip. Here, the narration seems a compensation, such as when it drifts over the script's weak moments, like a date between Beatrice and Conrad, where Pine tells us they began to wax poetically about classical literature and French cinema. Why not expound for us? What pieces of literature or what titles from the pantheon of Gallic greatness did these two minds fall in love over?
We mustn't forget that, what with the encroaching title cards to guide us through every day of The Longest Week, how short a period this is all transpiring within. This is shocking considering the rather serious emotions at play between its characters, which ultimately reduces notions of love to adolescent claptrap. "The idea of someone is always better," comments Beatrice in a conversation between the couple about falling in love after two days. It's more of an adept criticism of these unformulated characters, who are either uttering wise profundities about life and love or uttering inane lines like "You wanna see my Balzac collection?"
Bateman and Wilde make a handsome couple, and they're entirely watchable, so it's a pity considering they're playing such unlikeable clichés. Bateman's presence is sure to invite a variety of Arrested Development puns, though his character is hardly as developed as his Michael Bluth counterpart. Crudup is utterly wasted, as is the glorious Jenny Slate, who enlivens two scenes with the possibility of something greater had she just been allowed to improvise.
★★/☆☆☆☆☆