Run Rabbit Run: Jolie's Grimly Serious POW Reenactment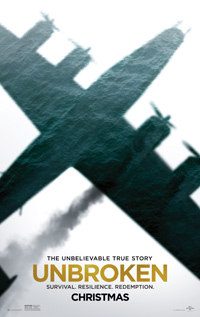 Beautifully, if sometimes too glossily mounted, Angelina Jolie's sophomore effort as a director, Unbroken, is too poker faced to enjoy either as a dramatic motion picture or a document of an excruciating, unnecessary experience. That's not to say there isn't untoward torture and humans behaving poorly towards one another, but the film, based on Laura Hillenbrand's book about the WWII experience of Olympic runner Louis Zamperini, collapses upon itself as merely an incredibly well-intentioned portrait of human resilience. It seems rather untoward to write the film off as dull or uninspiring, and while it certainly has patches that could be described as such, Jolie, directing from a script written by the Coen brothers and Richard LaGravenese, has simply made a very dry, straightforward film about a man whose experiences as a captive of the Japanese army were made even worse due to his athletic prestige.
Detailing the experiences of Louis Zamperini's (Jack O'Connell) internment as a prisoner of war to Japanese forces after his B-24 bomber is shot down over the Pacific, we catch flashbacks of his pre-war existence as an Olympic runner who grew up as a would-be hellion in Torrance, California to Italian immigrant parents. First stranded at sea with the pilot, Captain Russell Alan Phillips (Domnhall Gleeson) and Sergeant Francis McNamara (Finn Witrock), they last nearly a month on the water before being picked up by the Japanese and sent to Omori, a camp in Tokyo. Separated from his friends, Louis is subjected to a series of abuses from the malevolent Japanese army Sergeant Matsuhiro Watanabe (Miyavi) who makes it a personal vendetta to break the quiet spoken athlete.
Having starred in one of Clint Eastwood's half-baked endeavors (2008's The Changeling), Jolie's Unbroken feels curiously like something that actor/director would have been attracted to and had the energy for a decade or so ago. Workmanlike and with polished visuals and noble human characterizations, the technique seems to be that strength of the material speaks for itself, and, as with Eastwood, authorial intentions are generally only evident in dazzling packaging.
The first half of Unbroken stands out, as we zip into Zamperini's current plight and flashback intermittently to his childhood and his skills as a runner. Jack O'Connell gives an evenly moderated performance throughout, grimly doing his best to make it through each and every impossible feat. It's a far cry from his more visceral turn in David Mackenzie's Starred Up, but he's a fascinating screen presence, and Jolie chose well, considering a host of other recognizable faces become forgettable (Jai Courtney, Garrett Hedlund).
Females are only in the hazy periphery of his memories, his bonding only with a select few of his comrades, granting the film a small titch of emotional flavoring. Curiously, Jolie tends to focus more on his Japanese antagonist, played with an over-the-top fervor from newcomer Miyavi, which lends the film a bipolar streak similar to something like Nagisa Oshima's David Bowie headlined Merry Christmas Mr. Lawrence (1983), where a clash between stoicism and melodramatic fury in acting schools takes place. Except that we never really get a clear portrait of either Zamperini or Watanabe as people, both men a roughly hewn patchwork of opposition. Their violent relationship recalls something like an equally dry film from Jonathan Teplitzky, 2013's The Railway Man, though to her credit, Jolie seems to be doing her best to convey Zamperini's experience as respectfully and earnestly as possible. And yet, this does not work as a way to actually draw us in to Zamperini's plight, leaving Unbroken, with its gorgeous cinematography from Roger Deakins, a glacially paced spectacle.
★★½/☆☆☆☆☆