German Cowboys Navigate Rocky Terrain in Brooding Drama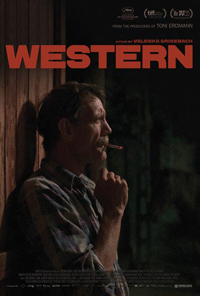 A film like Western simmers like a marshmallow on an open fire, never quite flaring up, but instead crisping to a golden brown. Our protagonist Meinhard (Meinhard Neumann, leading a group of non-actors) finds himself in a sticky situation between his fellow German construction workers—shipped in to build a hydroelectric plant—and the native Bulgarians who live in the nearby village. Most scenes, set against an idyllic backdrop, are charged with conflict, though never brought to a boil. Valeska Grisebach's forbearing third film is the strong, silent type that leaves a lasting impression.
The rustic story moves from one conflict to another without a clear direction, remaining unpredictable up until the very last frame. Tensions build. Expectations are overturned. Friendships are forged, then tested. At the middle of it all is Meinhard, a quiet, sweet man who is a more amiable hero than most. The locals gift him a beautiful white horse, which in a classic Western wouldn't raise an eyebrow, but here it has weight. The cultural gap is never quite bridged, and Grisebach knows how to keep the audience guessing. One late night, the blustery German foreman Vincent (Reinhardt Wetrek) pins Meinhard to the ground and questions his loyalty. Meinhard finds more in common with the townsfolk, but he doesn't want to take sides. He remains calm and steady throughout, with the exception of one scene, but reveals his cunning in different ways such as winning a poker game, and later, the affection of a local woman.
Bulgaria was occupied by Germany during the war, and old unsettled feelings of xenophobia pervade the film. But Grisebach finds pleasure in equal measure. Early on, Meinhard takes a break from his work to admire the beautiful vista. A lone wolf belongs out in the wilderness, and it's clear that Meinhard feels as if he belongs in this remote town. When he comes upon the horses in the forest, the way he gently mounts and rides the animal conveys a sense of childlike joy. These scenes act as a reprieve from the bristling tension. In this way the film is imbued with an acute realism. Nothing is sensationalized; it is naturally the flow of life for these European modern-day cowboys.
It would be hard to shoot a bad frame of celluloid out in these majestic mountains. The visual style is affecting, controlled yet bubbly, perhaps like Meinhard himself. Cinematographer Bernhard Keller achieves a loose impressionism that hardly feels like contemporary German cinema. A minimal score mimics the tranquility of the wilderness. The tension here is palpable without the need for heavy-handed music.
Maren Ade is a producer on the film, lending her hand to a project similar to her own Toni Erdmann only in that it showcases Germans working abroad. The humor in Western comes directly from the colorful personalities of its unprofessional cast. It's unlikely Ade added any jokes of her own. Most of the ensemble, plucked from the streets, has kept their real name, adding a charming authenticity.
Western has roots in the Hollywood tradition but is firmly European. It may seem unremarkable to some Americans who grew up on John Wayne and Clint Eastwood, but it is indeed a worthy addition to the canon. In a pivotal scene, Meinhard aims his rifle menacingly, but he doesn't shoot anybody. Grisebach is interested in the cinema of what could have happened.Meinhard dwells in the imminent and unavoidable, waiting for the repercussions that don't always come. The push and pull of two groups who don't speak the same language, at odds from the start, is mediated by the kind soul Meinhard. Through Meinhard, Grisebach is able to show the many layers of humanity that connect us in a deeply poignant way.
★★★½/☆☆☆☆☆