A Time to Drill: Eubank Delves into Derivative with Studio Sci-Fi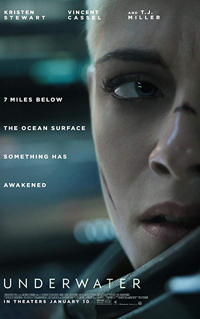 As above, so below seems to be the theme of William Eubank's third feature, Underwater, a blatant and shameless aquatic themed derivative of Ridley Scott's 1979 classic Alien, right down to some of the character and crew dynamics. Kristen Stewart (more Susan Powter than Sigourney Weaver) leads a mixed bag of a cast, but delivers a compelling performance despite the film's penchant for pigeon-holing its characters as a rag tag crew of unhappy researchers who seem to have chosen the watery depths of their occupation merely as a means to escape the trauma they've suffered on terra (another well-worn short hand used for easy, heightened drama—see Alfonso Cuaron's Gravity for a better example of this).
Although much delayed due to the Disney/Fox merger (the project filmed back in 2017), this would likely have been something which could have been delivered in late summer, and despite some obvious signs of studio tampering (at least as suggested by the lazy newspaper headline montages which bookend the film), it's surprising more wasn't done to hone its vague environmental horror possibilities (the phallic symbolism of the earth veritably raped and pillaged by desperate deep-water drilling) or at least make an effort to distance itself from its obvious influences.
A handful of aquatic researchers find themselves struggling to survive nearly seven miles under the ocean when their subterranean laboratory collapses after an earthquake, trapped underneath the weight of a massive drill which was constructed out of desperation to mine the earth of her last remaining natural resources. A mechanical engineer (Stewart) and her Captain (Vincent Cassel) lead a handful of crew members to the ocean floor to make a treacherous mile long walk to the nearest escape pods—but dangerous creatures from the depths lie in wait.
In Eubank's budding filmography, one sees a theme developing across his trio of films, from the astronaut cut off from communication in 2011's Love to the nightmare of his protagonist in his promising 2014 The Signal (read review). As it stands, Underwater masquerades as something which could almost be considered a decent film, lensed by Gore Verbinski's DP Bojan Bazelli, it's certainly striked a moody as a murky, watery grave (which the editing of which sometimes confuses more elaborate action sequences) and is enhanced by Marco Beltrami's score.
As enjoyable as Stewart often is, she's hampered by the clunky dialogue exchanges and a poorly formed backstory, her relationship with Vincent Cassel's captain and the fate of several survivors playing like a corny version of the Skerrit/Weaver dynamic in Alien. Mix into this some The Poseidon Adventure (1972) reminiscences and maybe even Jacques Tourneur's late period Vincent Price schlock War-Gods of the Deep (1965) and this sometimes-competent underwater creature feature doesn't appear to have an original concept or idea lurking anywhere in its superficial recesses.
Other cast mates range from underdeveloped (John Gallagher Jr. and Mamoudou Athie) to downright cancerous, like Jessica Henwick's lovelorn research assistant (she's found love in a lonely place and therefore more worthy of survival) or worse, the troubling toxicity of T.J. Miller, in charge of poorly coordinated and aggravating comic relief.
★★/☆☆☆☆☆