Perfect Days | 2023 Cannes Film Festival Review
Road to Nowhere: Wenders Welcomes the Pleasures of a Simple Life in Quiet Drama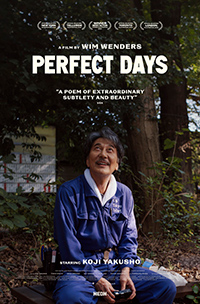 In his most successfully realized narrative feature in years, Wim Wenders returns to the road in Perfect Days, a thematic motif upon which he built his early career with his thematic trilogy, Alice in the Cities (1974), Wrong Move (1974), and Kings of the Road (1975). His latest is an elliptical essay on human connection through journeying, this time through the contained, repetitive work of a Tokyo toilet cleaner, whom we learn about through his kindness, work ethic, and the fleeting connections he makes with others during his daily routine. As sumptuously shot as many of Wenders' films, it's the generous warmth from a quietly moving central performance by Koji Yakusho, a character cut from the same cloth as Rudiger Vogler from Wenders' early films, which allows for a successful return to form. Co-written by Takuma Takasaki, it's a quietly expressive character study of a lonely man gently coaxed outside of his self-inflicted exile.
Hirayama (Yakusho) is a somewhat reticent, impressively diligent toilet cleaner who appears to have found an efficient rhythm in his daily life. He's respectful, if mildly annoyed by a younger, carefree co-worker (Tokio Emoto), who doesn't take nearly as much pride in their work. When Hirayama's niece (Arisa Nakano) suddenly shows up on his doorstep, a teenager he hasn't seen for years, he takes her along with him to work and they bond, though he remains quiet about his strained relationship with her mother. Since she's run away from home, it provokes a brief encounter with his sibling, though the unspoken chasm between them might not ever be bridged. The situation with his niece coincides with a sudden openness towards a beautiful divorcee who runs a bar he frequents, moved by her Japanese acapella rendition of "The House of the Rising Sun."
Taking its title from the track by Lou Reed, which makes its appearance on the soundtrack, along with several other classic American rock selections, it's one of several sonic inlets into Hirayama's characterization. We learn scant details from a past and a family he's seemingly recused himself from, with comments from his sister suggesting an abusive homelife. The film focuses more on Nakano's gentle, respectful acknowledgment of her uncle and his work, whose chosen occupation is viewed as uncustomary considering the upbringing we receive only the briefest glance into. A voracious reader, with Faulkner and Patricia Highsmith amongst his selections, Japanese writer Aya Koda's essays loom large, particularly a collection she published on trees and landslides, a metaphor for Hirayama, perhaps suggesting his chosen isolation is a form of stability from the emotional avalanches of his past.
Hirayama also is representative as a newly prized remnant of a past now deemed vintage, attractive to a younger generation, who have embraced the inherent novelty of cassette tapes, a technology he's never abandoned. It seems now there's a recuperation for his era, a curiosity about him he finds surprising in the eyes of others. Where Perfect Days belabors itself is through attempts at comic relief courtesy of Hirayama's flighty co-worker, played by Tokio Emoto, though he's used as a catalyst for various explorations of themes (and does result in a rather touching use of Patti Smith).
Shot by Franz Lusting (who has lensed several late period Wenders features, including 2004's Land of Plenty and 2005's Don't Bother to Knock), Tokyo is captured as a pristine metropolis, with focus on the constantly utilized network of roadways (reminiscent of sequences utilized in Tarkovsky's Solaris, 1972). By the time we're on the road for our last morning with Hirayama, we get to bask in the joyful expression of Yakusho as he turns on Nina Simone for an ending and an expression that does, indeed, feel good.
Reviewed on May 26th at the 2023 Cannes Film Festival – Competition. 123 Mins.
★★★/☆☆☆☆☆