Disco Boy | 2023 Berlin Film Festival Review
Mal Travaille: Abbruzzese Finds the Rhythm of the Night in Hypnotic Debut
"E'en hell hath its peculiar laws," remarked Faust in Goethe's eternal classic, the wellspring of the cursed, compromising dealing with the devil in which all similar narratives are indebted. A captivating take on the Faustian parable arrives in Giacomo Abbruzzese's feature debut, Disco Boy, inextricably uniting two lost souls struggling to make better lives for themselves.
Franz Rogowski headlines with another fascinating, internalized performance as a Belarusian refugee who has to sell his soul for the chance at a better life. Expectedly, the situation waxes Biblical, for even if he gains the world, what does it matter if it means losing his soul? Aided by some broody camerawork by the exceptional Hélène Louvart and original music from French electronic producer Vitalic, the end product is a visually striking, thematically eloquent piece of filmmaking.
Aleksei (Rogowski) is introduced as a character with secrets, bearing a tattoo as his passport while his sports team crosses into Poland, granted a three day visa with strict guidelines. It's a ruse, as he absconds with his friend Mikhail (Michal Balicki) at their first opportunity, making their way to France, which ends up taking eight days. However, Mikhail doesn't make it when they're interrupted by police in a vulnerable passage of their journey. In order to receive French citizenship, Aleksei must make the cut for the French Foreign Legion and serve five years as a legionnaire before he's granted citizenship. Without this, he will be, as he's told, a ghost.
Meanwhile, Jomo (More Ndiaye) is a revolutionary leader of the group MEND (Movement for Emancipation of the Niger Delta), currently the biggest thorn in the side of the Nigerian government. He's also deeply connected to his sister, Udoka (Laetitia Ky), with whom he shares a similar trait of two different colored eyes and a love for perforative dancing, which has earned him the nickname Disco Boy. The lives of both men are destined to intercept when MEND kidnaps some French nationals, leading the legionnaires to retrieve them.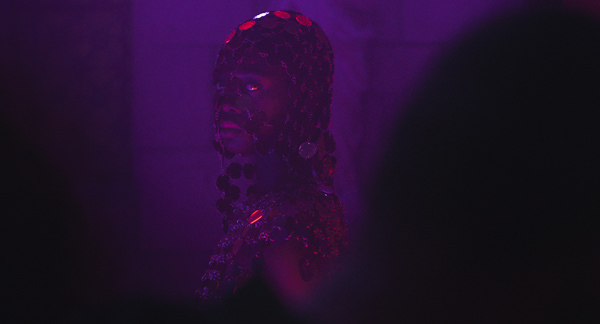 Abbruzzese offers various details about both men, regarding their less than satisfactory pasts, their desires, and their dreams, which are revisited in profound ways, including the meaning of Aleksei's tattoo. The effects of displacement on Aleksei, paired with the loss of his friend, perhaps explain why he's left vulnerable for the strange exchange which transpires, including a respectful ritual which strengthens a conduit to another realm. He realizes, too late, the price he paid for a new identity is too high, especially living an existence which is ultimately as limiting as the one he escaped.
But it's the mysterious transfiguration which really makes Disco Boy feel fresh and innovative, and as the title suggests, it's the dance floor where it really comes to life. Utilizing tracks from two of Vitalic's most recent albums plus an original, melancholic but addictive theme which plays like the film's pulse, it reaches the kind of mesmerizing energy needed to channel a mournful, powerful sense of the majestic. In the end, music really does make the people come together.

Reviewed on February 19th at the 2023 Berlin International Film Festival – Competition section. 91 mins.
★★★½/☆☆☆☆☆